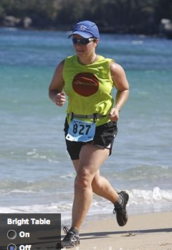 I am incredibly excited to be launching this new site that provides athletes what they have been asking me for over the past 2 years - more information and resources for Triathlon Training
Pittsburg, PA (PRWEB) July 12, 2012
TriMastery Triathlon Training Systems officially launched its new website today to offer Triathletes a large range of electronic training resources. Formerly operating as http://www.sprinttriathlontraining.org, which was a blog dedicated to providing simple training advice to beginner triathletes for Sprint Triathlons, founder Suzanne Atkinson suddenly found herself with a list of over 8,000 email subscribers. These zealots persisted in convincing her to launch a large online coaching service, complete with EBooks and other online training resources.
"The Sprint Triathlon Training Blog was never supposed to turn into anything like this," says Suzanne Atkinson, founder of TriMastery Triathlon Training Systems, "But I woke up one day and signed into my inbox to find hundreds of messages from people who downloaded my Free 1st Time Finisher's Guide, who were asking me for more. It was really quite amazing for me to realize that Triathletes are really thirsty for my knowledge as a coach."
TriMastery launched a Triathlon Training website that now includes a free 1st Time Finisher's guide for visitors, online training plans in EBooks, and a new 8 week online training course complete with video lectures, drill demonstrations, training plans, interactive coaching calls, and workouts posted for athletes in a private membership site. "I am incredibly excited to be launching this new site that provides athletes what they have been asking me for over the past 2 years - more information and resources for Triathlon Training."
Suzanne Atkinson did not start her professional career in Triathlon Coaching. Instead, she taught wilderness experiential education courses before she decided to become a Medical Doctor. Then, in her late thirties, she decided to become a Triathlete in order to help her deal with the stress of her job. "I was working 80 hours a week and leading an incredibly unhealthy lifestyle, and I woke up one day and realized I had to change," she recalled, "So I became a Triathlete, and from there I was hooked, and just kept going to more camps, training seminars, and began to get certified in cycling, swimming, and running coaching."
Suzanne Atkinson runs a coaching company in Pittsburgh, PA called Steel City Endurance. Just three years after becoming a coach, she is now in charge of curriculum development for Total Immersion Coach Training. She also runs a local bike racing team in Pittsburgh, Pennsylvania. Atkinson also attended a number of running clinics and seminars with the world's top Triathlon Running coach, Bobby McGee. In addition, she a licensed physician.
Tri Mastery is an online Triathlon Training System that gives athletes access to a wide variety of free and paid Triathlon Training resources. Suzanne Atkinson publishes a number of informative blog posts on Triathlon Training, as well as offering all visitors a Free Ebook download called the 1st Time Finisher's Guide for Triathlon. The site offers EBooks for sale, including 12 Week Advanced Sprint Triathlon Training Program and a 12 Week Advanced Olympic Triathlon Training Program. The site is also the first Triathlon Training site to offer an interactive online training course, the 8 Week TriMastery University that offers athletes access to teaching videos, drill demonstrations, and customized online training plans led by Suzanne Atkinson through daily message board posts and bi-monthly interactive coaching calls. TriMastery will also offer live, in person training camps in the near future.
This Press release was created and distributed on behalf of TriMastery Training Systems by Prism Communications Inc. Prism Communications is a full service internet marketing company that cuts through the myriad of internet marketing tactics and develops a coherent strategy for companies looking to grow their online presence. Prism, with its focus on strategy before tactics takes internet marketing into three main phases for clients: 1) Attract - bringing the right kind of visitors to their website; 2) Convert - turning those visitors into leads, prospects or clients; and 3) Relate - developing long term, lasting relationships with leads, prospects, and clients through constant communication. To learn more about Prism Communications, or to contact them for a free consultation for internet marketing solutions, email them at sam(at)prism-communications(dot)com or call them at 917.319.2229.