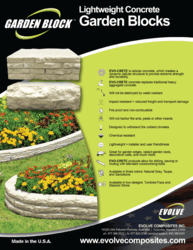 Once our customers grasp the fact that our blocks weigh a third of competitive products, the choice is clear and they are choosing Handi-Block and Garden Block for their home improvement projects
Columbia, MD (PRWEB) July 12, 2012
As the summer moves into full speed, so are the manufacturing plants at Evolve Composites. With enthusiasm of home improvement products on the market heightening as summer sets in, each of Evolve's three plants have sprung into action working diligently to meet the increasing sales of their ultra lightweight concrete products. "Our facilities are fully equipped to meet these growing demands and we are very excited to be able to provide our customers with the quality and durability they deserve," said Chris Considine, Evolve Composites' National Production Manager. "We are at a great stage in production where our quality has never been better. Our product's sustainability will have a dramatic influence in the marketplace that will be felt for years to come."
The Garden Block, Evolve's newest home improvement product, is a non engineered, lightweight concrete block made up of the advanced Evo-Crete formula that provides superior strength at a fraction of the weight of traditional garden blocks and edgers. Weighing less than 18 pounds each, these blocks are a third of the weight of traditional edgers on the market today. The Evolve Garden Block is available in two complimentary faces as well as 3 natural earth-tone colors. Its visual appeal and lightweight attributes are not the only aspects of the block causing a stir, but also its versatility to be resized using a simple hand saw to accommodate those hard to fit places often found while completing a lawn edging or garden bed project.
"We are receiving more orders and inquiries every day. With this growth and interest, we are ecstatic that these products are being welcomed so favorably. One thing that has us really excited is many of our customers in the distribution and big box channels are discussing program opportunities going into 2013," explained Steve Rizoti, Evolve's Director of Sales for Home Improvement and Building Materials Division. "Our customers and theirs are becoming more familiar with Evolve and our products, and as this confidence continues to expand, it is allowing them to plan their futures with us. Even with these inspiring future prospects, we will continue to stay focused on this year and making certain our customer's needs are not only met, but surpassed."
While Evolve's Handi-Block precast lightweight deck block has been on the market for a few years, its growth in sales volume continues to lead the way for deck builders across the country. Much like the Garden Block, Handi-Block is constructed using the same Evo-Crete special formula that utilizes concrete and recycled poly fibers to create a product that has superior strength and produces a smaller carbon footprint than traditional aggregate concrete. Home improvement DIY customers and contractors can utilize these multi-purpose foundation blocks for a broad range of projects that include garden sheds, decks, patios and raised walkways. "Once our customers grasp the fact that our blocks weigh a third of competitive products, the choice is clear and they are choosing Handi-Block and Garden Block for their home improvement projects."
Evolve Composites manufactures their products with Evo-Crete, which is a fiber reinforced cellular concrete. This technology creates a dynamic cellular structure with a fiber reinforcement to provide extreme strength and durability while weighing up to three times less than traditional aggregate based concrete. Other products manufactured by Evolve Composites include: Evo-Steps Pavers, Polyslab Utility Base Equipment Pad. Evo-Crete Generator Pads, Evo-Crete Hurricane Pads, Evo-Crete HVAC Equipment Pads, Evo-Slab HVAC Equipment Pads, Evo-Lite HVAC Equipment Pads and Polyslab Equipment Pads. Evolve Composites also distributes a variety of PVC pipe and PVC fitting products, as well as innovative accessories such as the Magjumper, which is a magnetic tipped testing and troubleshooting lead.
Evolve Composites is a Columbia, Maryland based company with manufacturing plants in Alabama, Florida and Maryland along with a national sales and marketing office in Houston, Texas.
For more information, call toll free 1-877-386-5522 or visit http://www.evolvecomposites.com