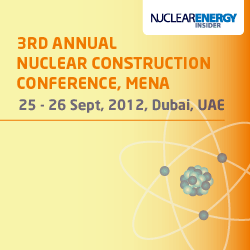 (PRWEB) July 13, 2012
Nuclear Energy Insider's 3rd Annual MENA Nuclear Construction Conference (25-26 September, Dubai) is bringing together over 300 senior decision makers from leading energy stakeholders including KA CARE, KEPCO, Jordan Atomic Energy Commission, Egyptian Ministry of Electricity and Energy, Rosatom, EDF, Eskom, Masdar and many more to build their supply chain and mitigate construction risk at the 300+ attendee conference.
The meeting is also supported by major sponsors from the global nuclear community including Areva, GDF Suez, GE Hitachi, Worley Parsons, Excel Services, Parsons, n.triple.a and 16 other companies who will fill the exhibition wing of the event.
Nuclear Energy Insider have been at the forefront of the MENA nuclear market since nations including Saudi Arabia, UAE, Jordan and Egypt clarified their plans for multiple new nuclear construction projects. These programs will inject over $300bn of new capital into the global nuclear industry; offering suppliers and service providers the opportunity to secure a huge piece of the market share in this lucrative region.
It is no secret that the MENA nations are lacking indigenous expertise to complete these projects. Due to this the 3rd Annual MENA Nuclear Construction Conference only attracts the most senior decision makers from government and national nuclear utilities who need to build their supply chain this year. The speaker line-up boasts utility buyers from Saudi Arabia, UAE, Jordan, Egypt, Turkey, South Africa, Russia, France and other nations to deliver to most extensive discussions and guarantee attendees the opportunity to secure new global partnerships.
If companies are looking to take advantage of the global nuclear renaissance, this is the only place where multi-billion dollar nuclear projects need a fully external supply chain to complete new build programs in the most challenging conditions – and this is the only conference where this exclusive industry connects.
If you want to secure your place in the $300+ billion MENA nuclear supply chain you need to attend the 3rd Annual Nuclear Construction Conference, Dubai, 25-26 September.
For exclusive discounts, full agenda and detailed speaker line up download the conference brochure here: http://www.nuclearenergyinsider.com/mena/conference-event-brochure.php