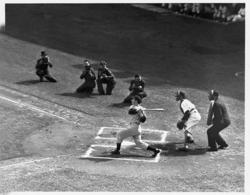 New York, NY (PRWEB) July 31, 2012
Wednesday, August 22 at 6:30 pm
Damn Yankees: Twenty-Foud Major League Writers on the World's Most Loved (and Hated) Team
Book Talk
Join Robert Fleder, former Executive Editor of Sports Illustrated, as he talks about Damn Yankees (Ecco, 2012), a new collection of essays he edited, which demonstrates that no one feels neutral about the Yankees! Fleder assembled a deep bench of great writers including Pete Dexter, Rou Blount, Jr., Jane Leavy, and Colum McCann, whose stories illustrate not only the team's personalities and rivalries, but also its economics.
RESERVATIONS REQUIRED
$12 Non-members; $8 Seniors and Students; $6 Museum Members
To Order tickets:
http://boxoffice.mcny.org/public/loader.asp?target=show.asp?shcode=398
*A two dollar surcharge applies for unreserved, walk-in participants.
For more information or to register by phone, please call 917-492-3395
Loction: Museum of the City of New York, 1220 5th Avenue