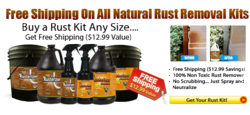 For MyCleaningProducts, true cleaning is making a place clean without putting anybody's health at risk.
Portland, OR (PRWEB) July 15, 2012
All cleaning products got the same purpose – to keep things tidy and clean. However, they are not all the same. Some can deliver effective cleaning and some fail to fulfill their promises. A number of cleaners even bring with them health risks. To provide the public products that truly clean, MyCleaningProducts created a line of green cleaners. And for this week, the company is offering them with big savings.
Order From MyCleaningProducts Today and Get 10% Discount and Free Shipping of the Products
Green cleaning is what MyCleaningProducts promotes with its line of cleaning solutions. Everyone of its cleaners is made with natural ingredients. And those natural ingredients are basically what enabled the company to offer true cleaning to its clients.
But what its true cleaning?
For MyCleaningProducts, true cleaning is making a place clean without putting anybody's health at risk. In other words, true cleaning for the company is clean and green. And in fact, with its green cleaning products, it can offer more than that. That's because it also infused wellness with its cleaners by using unique natural fragrances that create a relaxing and rejuvenating indoor atmosphere.
To produce its green cleaners, MCP uses natural ingredients. It rejects the use of strong chemicals as they present several health problems. Hence, it can be said that its solutions are gentle to both health and the environment.
However, the company clears that the products are no way less of being effective. According to a representative of the company, they are results of intensive researches. And to prove how well they work, MCP released a number of video demonstrations of them. Apart from that, it's also giving out complimentary samples of the solutions.
MyCleaningProducts has a wide set of cleaners. It offers solutions for pest control, rust removal, mold remediation and stone and marble care to name a few. Among the specific brands it offers are Bed Bug Bully, Spider Bully, Silverfish Bully, Rusterizer, Molderizer, Safe Shield and Marble Maverick.
The company offers its green cleaning products in various amounts. And so, homeowners and cleaning professionals can get them in volumes that fit best their need and budget. What's more is that for this week, MCP has put its cleaners on sale. It's giving them off with 10% percent discount and is also waiving the shipping cost.
Homeowners and cleaning professionals can surely get big savings from this special offer. And while homeowners can spend the savings to other home expenses, cleaning professionals can enjoy their big profit from the greenness, effectiveness and affordability of the non-toxic cleaning products.
Get Your Green Cleaners and Save Big. Just Enter Code 'pr10" at Checkout