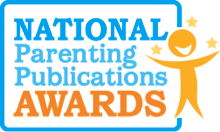 Burbank, CA (PRWEB) July 13, 2012
The National Parenting Publications Awards (NAPPA), a division of Dominion Enterprises, has added a new Silver Award level to its 2012 Children's Products Competition. This annual competition identifies the best toys, books, games, CDs, DVDs and virtual products.
"This is an exciting competition year for us because with the addition of this new level to our award structure, our judges can choose even more deserving and quality products," says NAPPA General Manager, Julie Kertes.
NAPPA's panel of expert judges and parent testers evaluate hundreds of products, from companies big and small, for their level of entertainment and engagement, value for price, educational value, durability, skill development, ability to grow with the child, age appropriateness and safety.
Gold winners are published in 30+ parenting publications across the country that reach over two million parents. Gold, Silver and Honors winners are published on parenthood.com and nappaawards.com and are also included in a marketing piece sent to toy buyers in the U.S. and abroad.
The competition deadline has been extended to August 10, 2012. For competition information, visit NAPPAawards.com/entrants.
About NAPPA
For more than 20 years, the National Parenting Publications Awards (NAPPA), a division of Dominion Enterprises, has been the go-to resource for the best products for families. NAPPA's team of independent expert judges, along with family and child testers, select the most innovative and enduring products to be NAPPA Gold and Honors winners in two annual competitions—Children's Products and Parenting Resources. Far more than a seal of approval, a NAPPA award signifies that a product has been rigorously evaluated against stringent criteria and stands out among hundreds of other products from around the world. For more information, visit http://www.NAPPAawards.com
About Dominion Enterprises
Dominion Enterprises is a leading marketing services and publishing company serving the automotive, recreational and commercial vehicle, real estate, apartment rental, employment, parenting, and travel industries. Headquartered in Norfolk, Virginia, with 3,300 employees in the United States, Canada, England and Italy, the company provides a comprehensive suite of technology-based marketing solutions, more than 45 market leading websites. Millions of For Rent®, Employment Guide® and HotelCoupons.com® publications are distributed across the U.S. each year. For more information, visit DominionEnterprises.com