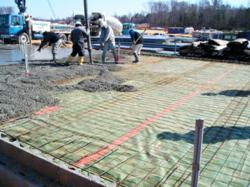 "Unfortunately, there is a lot of misinformation in the industry regarding vapor barriers. We wanted to sort the facts from fiction and illustrate the importance of puncture resistance when comparing competitive vapor barriers
Hampshire, IL (PRWEB) July 17, 2012
W. R. MEADOWS, a leader in the construction product industry for more than 85 years, today announced the release of its new white paper, "Underslab Vapor Barriers/Retarders: Perm Ratings and Puncture Resistance – Striking the Right Balance for Optimum Performance."
To download the white paper, visit: http://www.wrmeadows.com/white-paper-under-slab-vapor-barriers-retarders/.
This white paper explores the industry standards governing under slab vapor retarder/barrier performance and identifies critical product characteristics that should be considered when determining what level of under slab vapor protection to specify for a particular application.
In addition, the white paper highlights the importance of selecting a vapor barrier with not only a low permeance, but a high puncture resistance. Selecting a vapor barrier with a high puncture resistance can prevent damage during construction that could adversely affect the permeance of the system and lead to flooring failures.
For more information on the Truth about Vapor Barriers, visit: http://www.wrmeadows.com/truth-about-vapor-barriers-retarders/.
W. R. MEADOWS, INC. designs, manufactures, and markets high-quality building materials for today's construction professionals. Products are sold through an authorized distribution network. The family-owned and operated company focuses on product quality, business integrity, and outstanding service since its founding in 1926.
W. R. MEADOWS remains committed to producing environmentally-friendly products and systems that meet or exceed the latest regulations. From highway construction and repair, building construction and restoration, to waterproofing/vapor barrier/air barrier products and more, W. R. MEADOWS has been satisfying the needs of the public and private sector of the building construction industry for over 85 years.