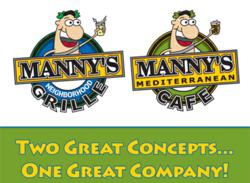 "Manny's potential market is huge," explains Franchise Clique chief executive officer David Schwartz. "The fast-casual sector of the franchise industry is predicted to continue it's growth throughout the whole of 2012."
Charleston, SC (PRWEB) July 17, 2012
Fast-casual franchise Manny's Mediterranean Grill and full service restaurant franchise Manny's Neighborhood Grill have begun a national lead generation and advertising campaign with the help of premiere Internet marketing company Franchise Clique. Beginning in July, both franchises will begin to recruit potential new franchisees to expand the Mediterranean cuisine franchise.
Manny's Mediterranean Café and Manny's Neighborhood Grill are two franchise concepts taking advantage of American consumer's concerns with eating healthier by serving Mediterranean-style fare. Though the Manny's family of brands has only has three locations currently in operation in Charleston, S.C., North Charleston, S.C. and Statesboro, G.A., its partnership with franchise lead generator, Franchise Clique, sends a clear message: that Manny's is serious about recruiting the right future franchisees.
Manny's Mediterranean Café is one of few food franchises that is both part of the growing fast-casual segment of the industry and the Mediterranean cuisine niche. According to Nation's Restaurant News, fast-casual concepts and healthier eating options were predicted to be star performers in 2012 as consumers became increasingly concerned with their health, began to eat out more frequently, and became less stringent with their budgets.
"Manny's potential market is huge," explains Franchise Clique chief executive officer David Schwartz. "The fast-casual sector of the franchise industry is predicted to continue it's growth throughout the whole of 2012."
Manny's Neighborhood Grill, the full-service restaurant and bar counterpart to the fast-casual Manny's Mediterranean Cafe, serves up the same delicious Mediterranean-style fare in a sit-down atmosphere. The Mediterranean grill franchise has been recognized by several regional publications for its ability to cater to a variety of customers.
Entrepreneurs with exceptional interpersonal and customer service skills, who possess prior small business experience and are comfortable managing and handling day-to-day sales can learn more about Manny's Neighborhood Grill by visiting http://www.franchiseclique.com/franchise/Mannys-Neighborhood-Grill.
About Franchise Clique
Franchise Clique, one of the nation's fastest growing Internet-based marketing companies, specializes in lead generation services and solutions for franchises and business opportunities. Founded in Charleston, S.C. in 2009, Franchise Clique has used its uniquely designed innovative technology in conjunction with its team's combined 20 years of experience to become one of the industry's highest-ranking lead generators. Franchise Clique enjoys a top rating from the Better Business Bureau and an association with the International Franchise Association. For more information, go to http://www.franchiseclique.com, find us on Facebook at (http://www.facebook.com/franchiseclique), follow us on Twitter @FranchiseClique or call 877-252-2340.