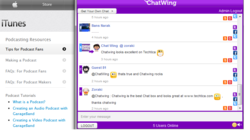 Portland, OR (PRWEB) July 15, 2012
Podcasting, for many web surfers and listeners, will now become more interesting with the help of the Chatwing chat box. This chat tool excels in the field of website communication and is meant to help blogs and websites attain proper visibility. Adding to that, the Chatwing chat tool is also known for its versatility and ease of access. Podcast bloggers can also take advantage of Chatwing's social media integration feature.
Podcast fans can use the Chatwing shoutbox to discuss their music interests while listening to their favorite tunes. Aside from that, they can use the Chatwing tool to find new friends and acquaintances. With Chatwing's social media integration, users can now log in with their Facebook or Twitter accounts—heightening the rate of web communication.
The Chatwing chat widget can also be installed in just seconds. First, the user must register his blog or website's domain name. After that, he can now proceed to the customization process. Now, he can edit the size, color, and title of the widget. This high rate of customization allows the user to synchronize the widget with his blog or website. Once everything is complete, the user can retrieve the HTML code and embed it to his blog's custom design panel. After embedding, the widget will go live and visitors can start chatting right away. Some bloggers have also noted that the effect of the Chatwing widget is better in the longer run. Visibility spikes vary, depending on the blog topics being discussed.
Aside from improving the niche of podcast blogging, the developers of Chatwing are always keen on providing a better website chat experience for everyone. This is the reason why the developers are working round the clock when it comes to the developments of the Chatwing free shoutbox. Adding to that, the team also maintains a blog and Facebook page to keep users well-informed.
About Chatwing.com
Chatwing.com has developed live chat software for websites and blogs. It caters to different online communities due to its high rate of connectivity. Everyone can create a customizable live chat box feature in 1 minute or less. Users have the ability to customize the size, color, and fonts of the chat product. The ability to chat via social media accounts such as Facebook and Twitter enable Chatwing to offer a personal and unique real-time experience to all sites. Chatwing is 100% free and very easy to use.