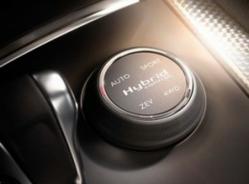 (PRWEB UK) 16 July 2012
Diesel hybrid Citroen: great looks and tres tax-efficient. And escapes 3% diesel company car tax surcharge.
What is it?
A new flagship Citroen - the car that sits above the DS3 and DS4 in the reborn DS lineup. Striking crossover is designed to tempt Audi, BMW and Mercedes drivers out of models like the A4, 3 Series and C-Class with a wide range of petrol and diesels and a price tag that starts at around £23,000.
The Citroen DS5 Hybrid4 tested here in top-spec diesel hybrid trim with a 163bhp engine at the front and 37bhp electric motor driving the rear wheels. High-tech - and with a £32,000 price to match.
How low is the Citroen's company car tax? Find out here
What's hot?
The way it looks. It's basically the DS Sportlounge concept car from a few years ago put into production
Inside it's aeroplane-inspired with an overhead centre console, head-up display and impressive wraparound dash with a bank of switches
The diesel hybrid can return up to 74mpg and emits just 99g/km...
...yet with 200bhp it's fast and responsive too
In town it runs almost silenty on electric power alone
This Hybrid4 DSport is very well equipped with Bluetooth music streaming, road sign recognition, lane departure warning and a multimedia satnav
Major company car benefits as there's no 3% diesel surcharge on a hybrid
Sub-110 g/km emissions means it qualifies for 100% first year allowance (FYA)
What's not?
The ride is firm and fidgety; potholes send thumps through the cabin
The six-speed auto is jerky when accelerating hard
The steering has strange weighting; it's light then heavy and needs constant correction on the motorway
As the DS5 is based on the smaller C4 platform, it's a bit of a squeeze for tall rear passengers. The rear hybrid electric motor takes up boot space too
Only cars with 17-inch wheels are road tax free: 18/19 inch wheels score 107g/km
Even in 4×4 mode the front wheels can slip and spin
Business Car Manager road test verdict
The Citroen DS5 is a fantastic car to look at – and it's just as distinctive inside too. It also has an innovative diesel hybrid power train which is fast, economical and should be very cheap to run for business mileage. The DS5 Hybrid's advantageous company car tax allowance position should be considered.
But the DS5 is neither sporty nor relaxing to drive and at £32,000 anyone could have a Range Rover Evoque for the same money.
In the past residuals have proved an Achilles heel for flagship Citroens but if you're tempted we reckon the lower priced models will represent better value (although you do then lose the advantage of the diesel hybrid's low, low benefit in kind company car tax) – and still boast those great looks too.
businesscarmanager.co.uk