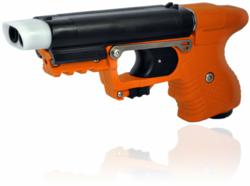 Law enforcement technology for the consumer market.
Phoeniz, AZ (PRWEB) July 19, 2012
For those who don't want to carry or even possess a regular firearm but who are looking for a highly effective less-lethal self-defense product to be best protected at home, in the car or in public space the JPX Pepper Gun is an option to consider.
The JPX fires only pure liquid pepper reducing risk of potential damage to anyone hit with it. People should consider carrying a less-lethal alternative just for this reason. "This less-lethal device provides superior stopping power at a maximum range of 23 feet. Carrying the JPX will give you peace of mind when you are away from your home and feeling unprotected," says Thomas Babilla of US Personal Defense Products.
One of the real advantages of the JPX is that it is not considered a firearm and legal to carry in most states. There is no registration requirement in most states making it available to anyone of legal pepper spray age. Its patented non-aerosol propulsion system coupled with the hottest pepper formula in the market make the JPX the most powerful, most advanced pepper defense system on the planet. The pepper spray is delivered at 405 mph up to 23 feet much further than any conventional pepper spray canister. The pepper spray is twice as hot as most law enforcement sprays at 2.4% major capsaicinoid concentration and 4,500,000 Scoville Heat Units. This offers a substantial advantage over canister pepper sprays. Users can hit a target quickly from a reasonable distance and most important, they don't have the wind blowback problem that people will encounter with most canister sprays.
Due to it's less-lethal nature, the JPX Pepper Gun is extremely effective not only against human perpetrators but also against animals. Most animals are moving quickly in an attack and a conventional pepper spray may not stop them in time. The pistol design speeds training and ensures an accurate delivery to the target even in windy situations. Think about taking a canister spray and aiming it at a charging dog or coyote. The user needs something that fires with velocity to hit his target to stop it in its tracks. Each cartridge contains two pepper charges, and quickly snaps on the frame. The JPX is shockproof, waterproof and extremely durable even in very hot climates. The JPX frame is available in black, orange or OD green color. As an option the JPX frame comes with an integral laser sight.
This unique defense system is now offered in the 15ft consumer version for only $159.95 for a limited period of time - until September 30, 2012.
About US Personal Defense Products: USPDP is the US distributor of less-lethal weapon manufacturer Piexon Ltd. of Switzerland located in Fountain Hills, AZ.