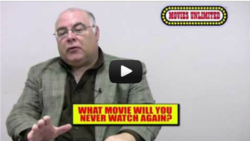 PHiladelphia, PA (PRWEB) July 18, 2012
In segments that run on the "Movie Buzz Podcast" entitled "Ask Movie Irv," Movies Unlimited staff writer Irv Slifkin answers movie-oriented questions posed to him by podcast producer George Allen. His reactions to the questions have provoked hundreds of emailed responses, making MovieFanFare one of the most popular interactive film-related websites on the Internet.
Among the most commented-on queries offered in the "Ask Movie Irv" feature have been "What Movie Will You Never Watch Again?," "Have You Ever Walked Out on a Movie?," "What's the Best Movie Shootout?," "Brad Pitt: Overrated or Underrated?" So far, the most popular podcast entry is "The Movie Alphabet A-Z," in which folks were invited to follow Movie Irv and pick a movie from memory starting with each letter of the alphabet.
"The 'Ask Movie Irv' section of MovieFanFare has given thousands of movie collectors a chance to voice their opinions about films they know and love—or, in some cases, know and don't love," said Jerry Frebowitz, president of Movies Unlimited. "We're thrilled to give cinema enthusiasts a forum in which they can share their insights with those who have similar interests."
MovieFanFare, "the movie collector's blog," offers many other sections that appeal to film buffs including reviews, interviews, career retrospectives, polls, new release information and such features as "This Week in Film History" and "Create-A-Caption." MovieFanFare is powered by Movies Unlimited, one of the world's oldest and most reliable video retail operations.