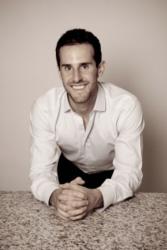 "The underlying cause in the majority of insomnia cases is most often directly related to the physical and/or emotional discomfort that comes as a consequence of a stressed or misaligned spine."
(PRWEB) July 17, 2012
A recent study suggests that the key to getting a good night's sleep lies in shutting down a region of the brain which is largely responsible for internal chatter and meandering thoughts. But according to Dr. Josh Wagner, the ultimate secret to overcoming insomnia and getting restful sleep doesn't reside only in the brain, but in the spine.
"The underlying cause in the majority of insomnia cases is most often directly related to the physical and/or emotional discomfort that comes as a consequence of a stressed or misaligned spine," says Wagner, a Manhattan chiropractor and founder of The Life House Chiropractic, the only health center in Manhattan specializing in Torque Release Technique, a drug-free, safe and gentle treatment which greatly enhances your body's natural ability to heal from chronic pain, anxiety, depression, migraines, low energy, and insomnia.
Wagner says that even the most minor spinal misalignment -- which can result from something as common as accumulated daily stress from looking down at a computer monitor all day, or taking care of infants -- can lead to disruption or impairment of your nervous system, which directly affects sleepless nights.
"Insomnia is caused by the body's inability to naturally shut down at the end of the day," says Wagner, "and if a person's body is in a 'sympathetic' nervous system state, which means it gets stuck in 'stress' mode even if you're in a relaxing environment, the inevitable result is poor quality sleep, or insomnia."
Wagner adds that when left untreated, insomnia can adversely affect your mood, work performance and quality of life. That's why it's essential to address the underlying causes of your insomnia, so you can get your health and your life back on track.
At The Life House, Wagner suggests this combination of highly effective treatment options for those suffering with mild to acute insomnia:

Torque Release Treatment: This highly effective, non-invasive, and gentle (no cracking or popping) treatment directly targets the underlying problem, and gives the spine the best ability to correct itself, thus allowing the nervous system relief from irritation.
"Chiropractic care makes a major difference in balancing the nervous system and reducing stress and the sympathetic state of the nervous system," says Wagner. "It is very common for individuals to experience dramatic benefits in their sleep once care begins. This then enhances their overall energy, mood, clarity, and focus."

Create a sleep schedule. Wake up and go to bed at the same time everyday (ideally, be in bed before 11:00pm).
Limit alcohol and caffeine intake, especially before sleeping.
Don't eat 2 hours before laying down for bed.
Do not exercise before bedtime.
Don't watch TV or use the internet immediately before bed.
Keep the room as dark as possible.
Don't read or work in bed at any time of the day, especially before retiring for bed.
List your intended outcomes and goals for the next day so you're not mentally going over them as you try to sleep.
Dr. Wagner also recently released a series of free, downloadable eBooks and protocols for healthy living, including:
"Access: Nutritional Transformation" a comprehensive, healthy eating guide which is available at The Life House website.
"Freedom From Fibromyalgia" is a free, downloadable 50-page eBook and a Fibro-focused website which address the widespread misconceptions about the chronic pain condition and help sufferers find relief and healing for their condition.
DrJoshWagner.com also features informative new videos, updated treatment protocol, research and information, and offer a community forum for people affected by Fibromyalgia, where visitors can go for support and to share their own treatment ideas, success stories, and more.
The Life House Chiropractic also helps individuals and families dealing with other conditions such as high blood pressure, chronic fatigue, anxiety, depression, migraines, attention disorders, and childhood illnesses. With Torque Release chiropractic care, whether it is an acute or chronic condition, your body will get well naturally.
For more information, contact The Life House at 212.876.3286. Also see The Life House on Facebook and Twitter.
ABOUT DR. JOSH WAGNER: Wagner is the founder of The Life House Chiropractic, and he was mentored in Torque Release Technique by its founder, Dr. Jay Holder, and graduated from New York University with honors and earned his doctorate in Chiropractic at Life University in Atlanta, Georgia. Wagner is a native New Yorker raised in Chappaqua.
The Life House Chiropractic : 19 East 71st Street, Suite 5a, New York, New York 10021 : 212.876.3286 : info(at)lifehousechiropractic(dot)com or visit http://www.lifehousechiropractic.com