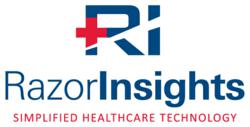 Finally, a company who offers an EHR answer for the small, rural PPS hospital.
Kennesaw, GA (PRWEB) July 17, 2012
RazorInsights, a leading provider of fully-integrated IT solutions for Rural, Critical Access and Community hospitals, today announced its partnership with Epic Medical Center in Eufaula, Oklahoma. Epic Medical Center has chosen to implement RazorInsights' ONE-Enterprise Edition—a single-database HIS solution including Inpatient Clinicals, Financials and Ambulatory/Practice Management for its associated medical practices.
"Finally, a company who offers an EHR answer for the small, rural PPS hospital. We are excited to be RazorInsights first hospital partner west of the Mississippi," said Vicki Schaff, chief operating officer at Epic Medical Center.
McIntosh County residents will soon benefit from some of the most advanced healthcare information technology on the market. RazorInsights' ONC-ATCB compliant solution encompasses pay-per-use services that, in real time, deliver its application through a browser to its customers using a multitenant architecture. In addition to alleviating its clients the burden of purchasing and maintaining servers, there is no software license to purchase. The system is scalable and upgrades are seamless. Hospitals simply maintain a low, all-inclusive monthly subscription.
"We're very pleased to have Epic Medical Center choose our comprehensive ONE-Enterprise Edition," said Kevin Rockholt, vice president of sales for RazorInsights. "One single database, an intuitive and consistent user interface, and a secure cloud connection—ONE-Enterprise Edition removes operational silos and streamlines the clinical and financial management processes, taking rural healthcare to the next level."
ONE clients are achieving Meaningful Use at rapid rates via its simple-user interface and single-database delivery system. Its intuitive design allows administrators and clinicians with limited technical skills the ability to quickly transition. Additionally, its innovative use of cloud technology renders seamless upgrades. ONE is reducing training time and providing much quicker implementations.
With RazorInsights' Ambulatory/PM piece in development, Epic Medical Center will transitionally leverage ONE-Health System Edition (Inpatient Clinicals & Financials). Upon completion, Epic will upgrade to ONE-Enterprise Edition, which will enhance clinician decision support by granting hospitals, and their associated medical practice(s), access to a patient's holistic medical record across the continuum of care.
About Epic Medical Center:
Located in Eufaula, Oklahoma, Epic Medical Center is a 33-bed acute care hospital serving the residents of Eufaula, McIntosh County and the surrounding area. Some of the services provided include: 24-hour Emergency Care, Laboratory, Radiology/CT/Ultrasound, Respiratory, Dietary & Physical Therapy. For more information regarding Epic Medical Center call (918) 689-2535.
About RazorInsights:
Based in Kennesaw, Georgia (in the metro Atlanta area), RazorInsights is dynamic healthcare information technology company. In keeping with the principle of Occams Razor, they have created a simplified HIS solution for Rural, Critical Access and Community hospitals. Introducing ONE (ONC-ATCB 2011/2012) — a single-database, cloud solution offering a simple user experience with cutting-edge clinical tools and industry-standardized data. Hospitals can expect to improve their performance and bottom line with ONE from RazorInsights. To register for a live product demo or for more information, visit razorinsights.com or call 770-308-4111.