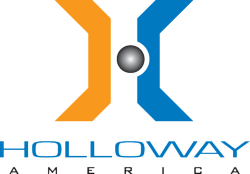 Our First-Person™ training videos have really taken our customer training to an even higher level.
Springfield, MO (PRWEB) July 18, 2012
HOLLOWAY AMERICA today announced it now offers First-Person™ training videos for a few of its pressure tank components, including the H-CONNECT™ and spring assist for the H-Series Manways. Produced by the company First Person Initiative, the videos let HOLLOWAY clients conveniently learn proper installation and maintenance techniques. Sales Engineer Randy Colwell addressed the benefits of the videos, stating, "We can now give clients 24/7 access to training by our most experienced craftsmen. It's really taking our training capabilities to an even higher level."
HOLLOWAY engineers its pressure vessels with efficiency and safety in mind, and providing the First-Person™ training videos helps ensure that each client can improve production by using their tanks and components correctly. HOLLOWAY plans to release videos for additional vessels and components as the need arises. "Getting to know the ins and outs of our clients' production processes uncovers some pretty clear training needs. And when multiple clients ask similar questions about a given piece of equipment, we know it's time for a new training video," Colwell said. He added that HOLLOWAY will also produce videos to fulfill direct requests from clients.
Currently, HOLLOWAY offers three instructional videos: the H-CONNECT assembly video, the quality assurance testing video and the spring assist installation video for the H-Series Manway. Colwell and other HOLLOWAY personnel unveiled the videos at INTERPHEX 2012 in early May, where attendees saw the clear benefits: "When our colleagues saw our First-Person™ approach to training, they wanted to know if we could provide similar videos for their brands. Yes, we can. In fact, we already have. The beauty of offering client-branded videos is that it lets us carry our attention to detail and service right through to our clients' own customers."
Stewart Davis, who directs client services at First Person Initiative, addressed the importance of using real HOLLOWAY fabricators and engineers in the videos, whether made to train their clients' employees or their clients' customers. Davis used the spring assist installation video as an example: "It lets viewers look over the shoulder of a HOLLOWAY expert, who regularly works with the H-Series Manway, so they can see exactly how to install the spring assist. And by using a HOLLOWAY rep in a video branded for one of their clients, we're able to capture that same expertise and clear understanding of the pressure vessels and parts. It really lets the client's brand shine."
In addition to the First-Person™ videos, HOLLOWAY offers on-site training as part of its YOURSITE™ Field Services, which include on-site fabrication, retrofitting, repairs, modifications and product-line startups. For more information on their latest training videos or pressure vessels and fabrication services, contact HOLLOWAY AMERICA at 417.863.0077 or by email at info(at)HollowayAmerica(dot)com.