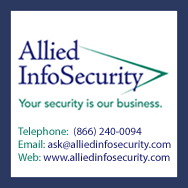 A multitude of organizations in today's high-tech world are realizing that it's not a matter of 'if', but 'when' a significant security incident will happen."
King of Prussia, PA (PRWEB) July 18, 2012
Allied InfoSecurity announced that it will be presenting its Incident Response & Security Forensics expertise at the Information Systems Security Association (ISSA) - Delaware Valley Chapter's meeting this Friday, July 20th, in Springfield, PA.
"A multitude of organizations in today's high-tech world are realizing that it's not a matter of 'if', but 'when' a significant security incident will happen", says Patty Hyatt Pezely, Chief Security Operations Officer with Allied InfoSecurity, "and the fact that disruptive security events frequently occur." The Allied InfoSecurity experts will discuss a comprehensive, properly resourced Incident Response Plan as a critical component of a professionally managed security program. Challenges and best practices for organizing, resourcing, and deploying an effective Incident Response Program will be explored. In addition, the use of forensic techniques to address key issues when responding to an incident will be illustrated and discussed.
Presenting on behalf of Allied InfoSecurity will be two exceptional practitioners: Rick Andersen, CISA, CISSP, is an experienced IT Audit, Compliance, and Security leader with a deep understanding of IT controls across many industries. He has eight years' experience with "Big 4" public accounting firms, and has had global leadership responsibilities for multinational financial services and manufacturing companies. Mike Daveler, CISSP, GPEN, Security+, MCSE, applies a unique combination of over 25+ years of deep security and IT management and technical experience in planning, developing and implementing information technology security solutions to address business and strategic needs, and has had direct involvement with incident response management and forensic investigations for clients involving internal employee abuse, virus infections and external hacker cyber attacks.
Allied InfoSecurity's information security/forensics specialists are trained and experienced in both the use of industry-standard and court-approved tools, as well as proper evidence handling and chain of custody requirements. They can bring an "attacker's mindset" to the investigation, which "thinks" beyond the digital evidence trail when it comes to identifying and remediating root causes of an incident or event.
The Delaware Valley Chapter of the ISSA serves security professionals in Southeastern Pennsylvania, Southern New Jersey, Delaware, and Maryland. Members and sponsors collaborate in sharing knowledge and materials relevant to information/computer/network security.
About Allied InfoSecurity
Established in 2006, Allied InfoSecurity is an independent company focused on security and staffed by certified security professionals. As a consulting and outsourcing provider, it helps businesses to improve and manage information security programs, mitigate risk, and respond to regulatory and marketplace demands more quickly and effectively than most companies could do on their own.
Allied InfoSecurity offers a full range of information security capabilities and services that address business processes, technology, and the human element of security. Just as important, its partnership approach to delivering services provides easy, flexible access to the full breadth of its expertise.
To receive complimentary issues of InfoSecurity News weekly, as well as periodic announcements of free online webinars and upcoming events, go to http://www.alliedinfosecurity.com, click on "Sign up for our newsletter", and also select "Allied Webinars & Future Events". Or email questions, comments, and requests to ask(at)alliedinfosecurity(dot)com.