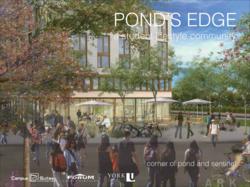 (PRWEB) July 18, 2012
Forum Equity Partners Inc., a Canadian-based infrastructure and real estate investment and development firm, and Campus Suites Inc., an international student housing development company, have been confirmed by the University's Board of Governors as the preferred proponent for Toronto's York University's newest student lifestyle community, Pond's Edge.
The two companies have formed a partnership, the York Forum Development Consortium, and had been recommended by York University Development Corporation to the York University Board of Governors to build the new community. The Board of Governors unanimously approved the negotiation of a Term Sheet that will define the relationship between the parties and how the Pond's Edge community will be developed.
"We are excited to take our extensive development experience and bring it to the Canadian marketplace," said Henry Morton, president of Campus Suites and York University alumnus. "Pond's Edge will be one of the preeminent, purpose-built student housing sites in the country. We will develop a relationship with York University and its community to ensure that the needs of all stakeholders will be heard and incorporated in the final designs. "
Planned to be built in four phases at the corner of Pond and Sentinel Roads at the south end of York University's main campus, when fully completed the community would be comprised of a residential living component, retail, office and consolidated parking.
"It is our expectation that virtually all of the units will have ensuites as well as attractive, modern furniture, in well-designed floorplans," said Morton. "The buildings will have a full amenity package including cardio and work out theatres, multi-purpose rooms, electronic and physical gaming centres, business facilities and study rooms. Life safety systems will also be incorporated into all facets of the units and building. "
The York Board of Governors has authorized York's President to negotiate terms for the first phase of the project. These terms would form the basis of a formal land lease in the near future. The plans for Phase I include approximately 770 beds in suite style units, a full amenity package and in-line retail. The project boasts central courtyards, landscaped plazas, green roofs and pedestrian-friendly walkways.
"We welcome the opportunity to partner with one of Canada's leading universities, York University, and the surrounding community on this new and exciting project. We believe this development will become a model for other leading universities across Canada seeking to provide a top quality student experience that compliments and supports the universities' core academic mission," said Richard Abboud, president and CEO of Forum Equity Partners. "The Campus Suites-Forum team is confident we will create a remarkable student community that will enhance the student experience at York by providing a vibrant and safe student living space."
York University is Canada's third-largest university and is a leading interdisciplinary research and teaching institution. With two campuses located in the heart of the Greater Toronto Area, the University serves 54,000 students.
Currently, the York Forum Development Consortium and the York University Board of Governors are in the process of finalizing the agreed upon terms in a formal term sheet.
For more information, please visit http://www.campussuites.com/communities/ponds-edge
About Forum Equity Partners Inc.
Forum is a leading Canadian real estate and infrastructure development and investment firm specializing in PPPs and other projects involving the public sector. Forum has established itself as a leader in infrastructure development and investment, with one of the most successful track records in the industry. Recent Forum PPP projects include the Billy Bishop Toronto City Airport Pedestrian Tunnel in downtown Toronto; the South West Detention Centre in Windsor, Ontario; the Pre-Trial Client Services Centre in Surrey, BC; and the CAMH Mixed-Use Development in Toronto. In 2011, Forum received the Gold Award for Project Financing from the Canadian Council for Public Private Partnerships and the firm's projects have received other industry awards.
About Campus Suites / Suite Life Group
The Campus Suites / Suite Life Group was founded based on the core principals of knowledge, dedication, integrity, and passion. With more than 30 years in multi-family/student housing development and management, Campus Suites / Suite Life Group has experienced the full spectrum of the industry and has developed a true passion and unique hands-on-approach to its operational strategy. At present, they have developed over 11,000 beds and have managed, in addition to its owned portfolio, several thousand additional beds. Campus Suites have won awards in virtually every market in which it has developed and / or managed for the Best Place to Live. For more information, visit http://www.campussuites.com.