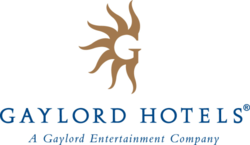 Nashville, TN (PRWEB) July 18, 2012
Creating the popular Gaylord Hotels Christmas experience requires lots of twinkle lights, poinsettias and even a little magic. To ensure the hotel brand is ready to provide its famous festive fun to its guests, holiday preparations are beginning now at all four resorts, located in National Harbor, Md. (just outside of the nation's capital); Nashville, Tenn.; Kissimmee, Fla. (near Orlando); and Grapevine, Texas (on the outskirts of Dallas).
Time to Deck the Halls at Gaylord Hotels
Christmas at Gaylord Hotels is all about creating picture-perfect holiday scenes. Millions of holiday lights and ornaments will start to be hung throughout the hotels. From Gaylord Palms' 54-foot-tall Christmas tree to Gaylord Opryland's large outdoor nativity scene, Christmas magic is about to happen.
Gaylord Hotels Prepares to Welcome Santa and DreamWorks Animation's Shrek & Friends
Of course, each hotel will be getting ready for Santa to come to town, but he isn't the only jolly character that guests will be able to meet. Shrek, Princess Fiona, Kung Fu Panda and King Julien will also be around to welcome travelers with lots of cheer. The Christmassy DreamWorks Experience will feature character appearances, the ShrekFeast character meal, Gingy's Gingerbread Decorating and scavenger hunts.
Tis' the Season to Be Freezin' … ICE! Returns to Gaylord Hotels
Celebrations at Gaylord Hotels this year will include a return of ICE! attractions featuring DreamWorks Animation SKG, Inc.'s Merry Madagascar and Shrek the Halls. Each display is hand-carved by 40 artisans from Harbin, China – the ice-sculpting capital of the world. The fanciful ICE! sculptures and ice slides are crafted from 2 million pounds of ice at each hotel.
Plan Now to Make Christmas Memories at Gaylord Hotels
From the nightly indoor snowfall at Gaylord National to the giant toy soldier stilt walkers at Gaylord Texan, all four hotels are proud to present unique holiday décor and entertainment. Guests from all over the world travel to these resorts to surround themselves with the spirit of Christmas. Packages are available now at each destination, and Gaylord Hotels encourages travelers to book their experience early.
Following are links to the detailed Christmas event overviews:
http://www.ChristmasOnThePotomac.com
http://www.ChristmasAtGaylordOpryland.com
http://www.ChristmasAtGaylordPalms.com
http://www.ChristmasAtGaylordTexan.com
About Gaylord Hotels®
Gaylord Hotels® is a collection of four upscale, resorts which afford endless opportunities for leisure travelers and conventioneers. The hotel company's hallmark – "everything in one place" – provides vacationers with diverse dining options, quality spa and fitness center services, top-notch entertainment, on-site shopping and endless activities – all within each resort. Gaylord Hotels is a pioneer in the hotel and convention industry with properties in the nation's most desirable destinations. Gaylord Hotels include Gaylord Opryland® in Nashville, Tennessee; Gaylord Palms® in Kissimmee, Florida near Orlando; and Gaylord Texan® on Lake Grapevine near Dallas, Texas, and Gaylord National® on the Potomac in National Harbor, Maryland. Gaylord Hotels is owned and operated by Gaylord Entertainment (NYSE: GET), a leading hospitality and entertainment company based in Nashville, Tenn. For more information, please visit: http://www.GaylordHotels.com.
# # #
*Per night, based on double occupancy, plus tax, (Osceola County Assessment Fee for Gaylord Palms) daily resort fee and parking. Extra adult and extra child rates apply. Extra nights and atrium upgrades may be available at prevailing rates. Not valid for groups or in conjunction with other offers. Not retroactive. Subject to blackout dates. Other restrictions may apply.
Shrek, Madagascar, Kung Fu Panda and all related characters and properties© 2012 DreamWorks Animation L.L.C. Merry Madagascar © 2012 DreamWorks Animation L.L.C.