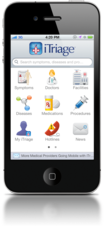 Since most men don't like to go to the doctor or discuss their health, the neighborhood barbershop is the ideal gathering place to educate the community about preventable diseases
New York City, NY (PRWEB) July 18, 2012
With the support of both local and national sponsors, including leading mobile healthcare app iTriage®, Cutting For A Cure will kick off its third annual 48-hour hair cutting marathon and community health fair this Friday, July 20 to raise awareness and promote early diagnosis of men's health issues.
Cutting For A Cure is the brainchild of Harlem barber/groomer Dennis Mitchell who felt compelled to take action after being diagnosed with Type II diabetes in 2010. "Since most men don't like to go to the doctor or discuss their health, the neighborhood barbershop is the ideal gathering place to educate the community about preventable diseases," he explained.
Cutting For A Cure will take place from 8am Friday, July 20 to 8am Sunday July 22 at Denny Moe's Superstar Barbershop, 2496 Frederick Douglass Blvd, Harlem, New York. A 24-hour hair cutting marathon and health fair will also take place 8am Friday, July 20 at Mr. Rooney's Barbershop, 13118 Merrick Blvd, Queens, NY.
Event details include:

48-hour hair cutting marathon by 12 licensed barbers from around the world
Free health screenings from a team of medical personnel from Harlem Hospital, Iris House and Barbershop Quartet
Ask The Doctor Panel moderated by America's Psychologist Dr. Jeff Gardere
Healthcare discussions, demonstrations and individual health consultations
Free health information from iTriage and other sponsors
A salute to First Responders including NYPD, FDNY and military
Live music performances, entertainment and food
Statistics show that African American men have a lower life expectancy than any other racial group, are twice as likely to be diagnosed with diabetes, and have lower survival rates for lung, colon and pancreatic cancer. As a non-profit organization, Cutting For A Cure focuses on creating awareness and funds for these health issues through education and testing, and by emphasizing that disease prevention is the best method of living a healthy life.
iTriage is a free mobile app and website that empowers people to make better healthcare decisions by providing them with immediate access to information about symptoms, diseases, conditions, and nearby medical providers. iTriage is available for iPhone and Android mobile devices as a free download from app stores, and from any Internet-enabled device at http://www.iTriageHealth.com.
About Cutting For A Cure
Cutting For A Cure is a 501(c)(3) non-profit organization that assists underserved communities and ethnic groups in improving their quality of life by providing health education and giving them access to the necessary tools and resources to live a long and healthy life. Cutting For A Cure was started by Dennis "Denny Moe" Mitchell, owner of Denny Moe's Superstar Barbershop in Harlem, to encourage African-American men and their sons to take charge of their health through education and regular screenings that detect preventable diseases. For more information, please visit http://cutting4acure.com.
About iTriage, LLC
iTriage LLC, headquartered in Denver, Colorado, is a global health care technology company founded in 2008 by two emergency medicine physicians. The company's market-leading platform and mobile/Web applications offer a proprietary Symptom-to-Provider™ pathway that empowers consumers to make better health care decisions. iTriage helps people answer the two most common medical questions: "What could be wrong?" and "Where should I go for treatment?" Millions of consumers around the globe have downloaded the free iTriage mobile app on their iPhone and Android devices, and thousands of health care providers use iTriage to reach and communicate critical facility and service information to patients. For more information, please visit http://about.iTriageHealth.com.