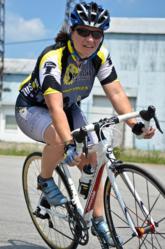 Now at a fraction of the cost, you can enjoy the same benefits as in-person triathlon coaching!
Pittsburgh, PA (PRWEB) July 19, 2012
TriMastery coach Suzanne Atkinson introduced the TriMastery Online 8 Week Education program today that provides the majority of Triathletes who have never used a coach with an online coaching option. The course contains 16 hours of Triathlon Training curriculum center around a unique system that breaks triathlon training into three key elements: Science, Form, and Fitness. It also contains a library of Sprint and Olympic Triathlon Training plans, which clients can choose from to implement during the course.
The TriMastery Triathlon training program consists of an 8 week online training course, divided into four two week modules complete with video instruction on science, form, and fitness elements of Triathlon. At the beginning of the course, Coach Suzanne will help athletes pick out their own training plan based on their fitness and triathlon goals. The plan will also have an online interactive forum where athletes can post questions or results from their workout. Each module will also have a live, interactive coaching call with clients so that they can go over questions in a group forum with Coach Suzanne.
"The Sprint Triathlon Training Blog launched 3 years ago has produced a large following, and a lot of people on the list were asking me for more information. I am full with private clients right now, so I have had to turn a lot of people away. I happened upon an online technology that allows me to duplicate myself using technology. The Training in the course would normally cost thousands of dollars if conducted in person. Now at a fraction of the cost, you can enjoy the same benefits as in-person triathlon coaching," says Coach Suzanne Atkinson. For those who choose to participate in this program, the benefits to enrolling do not just end at instructional video. Individualized coaching is given through personal feedback with clients submitting videos to the experienced coaches that will review their movements and provide constructive feedback in the online forum on what drills and movements.
Head Coach, Suzanne Atkinson runs a coaching company in Pittsburgh, PA called Steel City Endurance. Just three years after becoming a coach, she is now in charge of curriculum development for Total Immersion Swimming's coach training program. She also runs a local bike racing team in Pittsburgh, Pennsylvania. Atkinson also attended a number of running clinics and seminars with the world's top Triathlon Running coach, Bobby McGee. In addition, she a licensed physician.
Tri Mastery is an online Triathlon Training System that gives athletes access to a wide variety of free and paid Triathlon Training resources. Suzanne Atkinson publishes a number of informative blog posts on Triathlon Training, as well as offering all visitors a Free Ebook download called the 1st Time Finisher's Guide for Triathlon. The site offers EBooks for sale, including 12 Week Advanced Sprint Triathlon Training Program and a 12 Week Advanced Olympic Triathlon Training Program. The site is also the first Triathlon Training site to offer an interactive online training course, the 8 Week TriMastery University, that offers athletes access to teaching videos, drill demonstrations, and customized online training plans led by Suzanne Atkinson through daily message board posts and bi-monthly interactive coaching calls. TriMastery will also offer live, in person training camps in the near future.
This press release was created and distributed on behalf of TriMastery Training Systems by Prism Communications Inc. Prism Communications is a full service internet marketing company that cuts through the myriad of internet marketing tactics and develops a coherent strategy for companies looking to grow their online presence. Prism, with its focus on strategy before tactics takes internet marketing into three main phases for clients: 1) Attract - bringing the right kind of visitors to their website; 2) Convert - turning those visitors into leads, prospects or clients; and 3) Relate - developing long term, lasting relationships with leads, prospects, and clients through constant communication. To learn more about Prism Communications, or to contact them for a free consultation for internet marketing solutions, email them at sam(at)prism-communications(dot)com or call them at 917.319.2229.