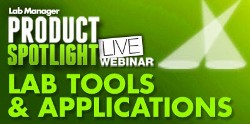 Why wouldn't you what to take advantage of this free opportunity to learn more about how SDMS, ELN and LIMS in combination can improve laboratory efficiency?
Midland, ON (PRWEB) July 18, 2012
The Challenge:
Historically, laboratory information management systems (LIMS) have been designed to manage experimental results that relate primarily to quality testing, sample characteristics, and tracking. Raw data management, instrument integration and the ability to connect original data to final reports has been lacking.
To take advantage of this FREE webinar, click here: Register Now!
The Solution:
A comprehensive laboratory execution system (LES) can manage laboratory data and processes, integrate readily with analytical instruments, and serve as a data feeder to other informatics solutions.
The Results:
Adoption of an LES solution can facilitate data flow from laboratory to business systems and document bench-level workflows; reducing overall waste and variability in scientific data management.
To take advantage of this FREE webinar, click here: Register Now!
Topics to be covered in this webinar will include:

Sample and laboratory inventory management with an electronic laboratory notebook
Automating sample testing SOP's with a laboratory execution system
eRecord lifecycle management – managing data from creation to retirement
A pathway to standardization – capturing data from multiple techniques and vendors with a central data repository
Who should attend?
This webinar is ideal for: lab managers, lab technicians, scientists, chief executive officers (CEOs), chief risk officers (CRO), chief compliance officers (CCO), equipment purchasing agents, laboratory leaders, post doc graduates, procurement managers, and many more.
Agenda:
This session is slated for 60 minutes and will be broken down into a 40-minute presentation with a 20-minute open forum for a live Q & A, all using the GoToWebinar platform. After the session, all attendees will receive links to the presentation materials posted on LabManager.com.
Speaker:
Dr. Thomas Schmidt works as a senior product manager at Waters. He received his chemistry education at the University of Bonn, Germany. After earning his Ph.D., he worked for CreonLabControl as a software developer. In 2002, he moved to marketing and had responsibilities as a product manager for E-record management and laboratory workflow management systems at Waters. Thomas' current focus is on NuGenesis ELN, the Electronic Lab Notebook for analytical laboratories.
When: Tuesday July 31, 2012
Where: Live Web Event via GoToWebinar Platform; a link will be provided after free registration: Click Here to Begin
Time: 12:30pm to 1:30pm EDT
Follow Us:
Facebook: http://www.facebook.com/labmanager
Twitter: http://www.twitter.com/LabManager
LinkedIn: http://www.linkedin.com/groups/Lab-Manager-Magazine-2531919
About Lab Manager Magazine
Lab Manager Magazine delivers practical business and technology insights to today's lab professionals with more relevant management, financial, and purchasing information than any other industry publication. Our writers, including chemistry and biology Ph.D.s with lab management experience, know the market and know the challenges facing today's research professional. Everyone generates content. Lab Manager Magazine provides intelligence. That's why a growing number of lab professionals turn to Lab Manager Magazine to stay abreast of the latest technology developments, applications, comparisons, and analyses, as well as business and industry trends.