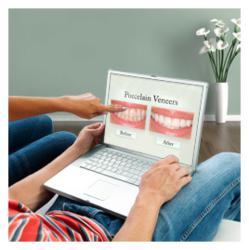 MADISON, WI (PRWEB) July 20, 2012
Eighty-four percent of patients want to be educated by their healthcare professional, according to a recent survey. Now, member dentists of the American Academy of Cosmetic Dentistry (AACD) can do just that at no cost with the help of new patient education videos through a partnership with Dear Doctor.
The videos—produced specifically for AACD Member Dentists by Dear Doctor, a provider of patient education and marketing materials for dentists--are free to AACD members and are customized for members' practices. They can be placed on practice websites, social media platforms, or used chair side, with an iPad or tablet.
The videos include select topics such as:

A Cosmetic Dentistry Overview
How to Choose a Cosmetic Dentist
Porcelain Veneers
Teeth Whitening
Dental Implants
And more to come
With the videos, dentists can demonstrate to their patients exactly what kinds of treatments are best for them, and help them understand what their smiles will look like after treatment has been completed. The videos can also help dentists spark patients' interest in additional cosmetic dentistry treatments, thus increasing case acceptance and improving patient retention.
AACD is offering the videos to its member dentists at no additional cost, though the videos are valued at more than $360 annually compared to other offerings in the marketplace.
"An educated patient is a happy patient—and a repeat customer," said Dr. Ron Goodlin, AACD president. "When it comes to treatment, dental patients don't like to be surprised. With the help of Dear Doctor, patients under the care of AACD member dentists won't be!"
For more information about this benefit, visit http://www.aacdvideos.com.
About the AACD
The AACD is the world's largest non-profit member organization dedicated to advancing excellence in comprehensive oral care that combines art and science to optimally improve dental health, esthetics, and function. Comprised of more than 6,300 cosmetic dental professionals in 70 countries worldwide, the AACD fulfills its mission by offering superior educational opportunities, promoting and supporting a respected Accreditation credential, serving as a user-friendly and inviting forum for the creative exchange of knowledge and ideas, and providing accurate and useful information to the public and the profession.
About Dear Doctor
Dear Doctor is the leading provider of dental patient education both online, in print, and now on video. With beautifully designed articles and detailed illustrations, Dear Doctor's content is not only factual and informative but also easy to understand, fun and interesting. By incorporating marketing and branding into our educational products we have employed the concept of marketing through education, effectively branding the practice while educating patients. Dear Doctor content is written by industry-leading dental professionals and endorsed by prestigious professional organizations—including the AACD—that ensure the educational content is the finest available for the dental consumer.