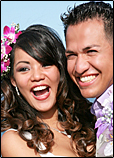 Honolulu, Hawaii (PRWEB) July 20, 2012
Maui'd Forever is one of Hawaii's few full service, all-Hawaiian Islands wedding planner and coordinator. Founded in 2003 by entrepreneur Mark Steffan, the company operates on the Hawaiian Islands of Oahu, Maui, Kauai and the Big Island of Hawaii. They are now offering commissions and advice on Hawaii weddings for travel agent partners.
No one knows Hawaii better than Maui'd Forever. Having done over 3000 beach weddings since 2003 they have an in depth knowledge of beaches and weather conditions that could affect someone's destination wedding.
Each Island has its own unique climate but can vary greatly over short distances. If potential wedding couples have not yet decided which Hawaiian Island to visit they should definitely consult with an experienced wedding planner/coordinator.
Mr. Steffan usually recommends either Oahu or Kauai for first time visitors. Oahu is a good choice for those looking for more to do or to save money. Their is so much more to do on Oahu compared to the other Hawaiian Islands it is a good fit for many people. There are historic sites such as Pearl Harbor and a real night life there unlike any of the other Islands.
If however the nearly weds want peace, tranquility and true tropical beauty they consider the Island of Kauai. Its nickname is the "Garden" Island and is indeed the best choice for couples looking to get away from it all and to be surrounded by lush tropical beauty that one usually associates with the Hawaiian Islands.
One does need to be aware that on the Island of Kauai there are 3 major areas for tourism and wedding locations. The northern shores are the most spectacular and offers all that tropical abundance but with a cost. It is the rainy end of the Island and that can of course impact an outdoor beach wedding. Mr. Steffan believes the southern end of the Island around Poipu and Koloa offers the best spot for weddings.
One should not rule out Maui or the Big Island of Hawaii either. Some travel agents are familiar with the Hawaiian Islands and already know this but those not familiar should consult with an industry expert before sending their clients off to the "wrong" spot.
The commission structure is dependent on what type of package that is purchased. Maui'd Forever wedding packages start at $299 and rarely go over $2500. The agent can work with Maui'd Forever or pass their client on directly to one of their coordinators. They simply have to register their clients name with Maui'd Forever to qualify for their commission.