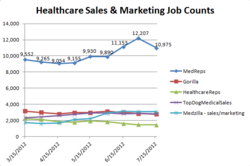 We are watching the job count numbers closely and believe they are indicative of the overall market.
Alpharetta, GA (PRWEB) July 19, 2012
The number of healthcare jobs continues to rise, but are medical and pharmaceutical sales jobs keeping with the trend? Leading healthcare sales job board, MedReps.com, is hoping to answer that question by tracking the number of healthcare sales and marketing jobs on various industry job sites.
In its inaugural, quarterly Healthcare Sales Jobs Report, MedReps.com provides a snapshot of recent activity on industry job boards. The current numbers suggest a positive outlook for healthcare sales jobs, but the report also speculates on what the future may hold, factoring in concerns about the impact of the medical device excise tax and the Physician Payment Sunshine Act. Implementation of the Patient Protection and Affordable Care Act will certainly impact the sector, but exactly how and to what degree is still to be seen.
The report not only tracks overall job counts, but also looks at the number of medical device, pharmaceutical, and biotech sales and marketing jobs posted online. Currently, medical device sales jobs are more prevalent than pharma or biotech, but healthcare legislation, among other factors, will impact these markets differently, so one can only speculate on what the future holds.
"We are watching the job count numbers closely and believe they are indicative of the overall market," says Karyn Mullins, EVP & General Manager of Healthcare Staffing Technologies, which owns and operates MedReps.com. "As we collect more data, we hope to detect hiring trends and other patterns that will be useful to those with a vested interest in the industry."
MedReps began tracking the numbers in March of 2012. Read the inaugural Healthcare Sales Jobs Report here.
About MedReps.com:
MedReps.com has been the go-to site for healthcare sales and marketing jobs for over a decade. The site is owned and operated by Healthcare Staffing Technologies, a member of the Jackson Healthcare family of companies. Jackson Healthcare is the fourth largest healthcare staffing company in the U.S. and serves more than four million patients in over 1,300 healthcare facilities. The company also provides technology solutions that enable total hospital efficiency.
Jackson Healthcare has earned national media coverage by providing innovative solutions to healthcare problems, in addition to championing local, national and international charitable work. It has been recognized as one of the Best Places to Work by the Atlanta Business Chronicle for five consecutive years.
Visit JacksonHealthcare.com to learn more.