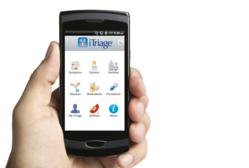 We're proud to offer the latest advanced technology to the residents in our community, all of which reinforce our commitment to improving health care access and information
Bloomington, IL and Denver, CO (PRWEB) July 19, 2012
To connect with the fast growing population of smartphone users, OSF St. Joseph Medical Center has announced a partnership with iTriage® – a free consumer health care application that lets users quickly and easily research symptoms, learn about medical conditions, and get directions to the closest health care providers.
According to the latest Nielsen statistics, more than 50 percent of Americans now own a smartphone, and the number of people using their mobile devices to access health care information online is growing daily. iTriage is available as a free download from app stores for iPhone® and Android™ devices, and can also be accessed from any Internet-enabled device at http://www.iTriageHealth.com.
The partnership allows OSF St. Joseph to connect with the residents in Bloomington-Normal when they have an immediate medical need by providing them with detailed medical information about their hospital, emergency department and four walk-in PromptCare facilities. iTriage also lets users:

Research medical symptoms and conditions
Learn about possible causes and treatment options
Obtain medication information for treatment of a specific condition
Find detailed OSF St. Joseph information like services, specialties, hours and turn-by-turn directions using GPS capabilities
"As more patients rely on their smartphones for health care information, it's important to provide them with the resources to make informed decisions when illness and injury occur," said Sue Necessary, director of Marketing and Communications. "We're proud to offer the latest advanced technology to the residents in our community, all of which reinforce our commitment to improving health care access and information."
About OSF St. Joseph Medical Center
Located in Bloomington, OSF St. Joseph Medical Center is a 149-licensed bed, not for profit, acute care, and Level II Trauma Center facility, fully accredited by the Joint Commission. In 2008, the American Nurses Credentialing Center designated OSF St. Joseph Medical Center a Magnet hospital, making it the only Magnet hospital in McLean County and only the 18th in Illinois. For more information about the full range of services provided, including four PromptCare walk-in facilities for the treatment of minor illnesses and injuries, visit http://www.osfstjoseph.org.
About iTriage, LLC
iTriage LLC, headquartered in Denver, Colorado, is a global health care technology company founded in 2008 by two emergency medicine physicians. The company's market-leading platform and mobile/Web applications offer a proprietary Symptom-to-Provider™ pathway that empowers consumers to make better health care decisions. iTriage helps people answer the two most common medical questions: "What could be wrong?" and "Where should I go for treatment?" Millions of consumers around the globe have downloaded the free iTriage mobile app on their iPhone and Android devices, and thousands of health care providers use iTriage to reach and communicate critical facility and service information to patients. For more information, please visit http://about.iTriageHealth.com.