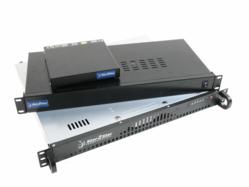 Sarasota, FL (PRWEB) July 20, 2012
Star2Star Communications, maker of "The World's Most Reliable Business Communications Solution," today announced the availability of three new StarBox Internet Communications Appliances, a new call recording feature, and a new call recording archive service.
The new StarBox models are the StarBox 2250, StarBox 2250CR, and the StarBox 5500CR.
The StarBox 2250 replaces the previous model StarBox 2200, which is now discontinued.
The StarBox 2250CR adds call recording capabilities to the StarBox 2250. It can hold approximately 2,500 hours of call recordings on a built-in SSD drive. Similarly, the StarBox 5500CR adds approximately 5,000 hours of call recording to our flagship StarBox 5500.
Recorded calls can be played back using the Star2Star cloud-based Application Framework.
For customers who need long-term storage of their call recordings, Star2Star now offers a Recording Archive Service. This cloud-based service provides secure archival storage of call recordings. The Archive Service creates a cloud-based backup of call recordings on a regular schedule, with no user intervention.
About Star2Star:
Founded in 2006 in Sarasota, Florida, Star2Star Communications develops and delivers Integrated Communication and Collaboration solutions that connect and enable Productive Business People. Star2Star's award-winning technology employs a unique Blended Architecture that overcomes the reliability and quality limitations of other Internet communications technologies. Founded in 2006, Star2Star delivers innovative features and increased productivity while providing substantial cost savings.
During 2011, Star2Star achieved 100% network uptime and was named to both the Inc. 500 and Forbes Most Promising Companies lists.
Star2Star products are sold through a diversified international network of distributors, master agents, and certified installing dealers. Available across North America, Star2Star Internet communication systems are installed in thousands of businesses and in many large national retail and restaurant chains.