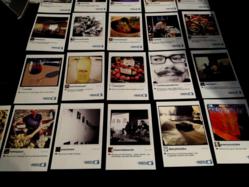 The pictures increase interaction and fun.
Minneapolis, MN (PRWEB) July 20, 2012
New Minneapolis based company, Photo.bo, is revolutionizing the wedding photography industry. Their real time event printing service allows users to print instagram photos to make a wedding social. The technology is simple in its concept, but incredibly unique.
For those 20 somethings getting married, inviting other 20 somethings to their wedding, the idea is this, "have friends use their phones to take pictures during a wedding. They can write a little message to the bride and groom, save it, and it automatically prints. At the end of the night, when everyone goes home, the bride and the groom get a box full of their friend's pictures and messages," Joshua Unseth, one of Photo.bo's partner's said. "Can you imagine a better way to remember the best day of your life?"
Each picture looks like a polaroid. It harkens back to the days of the instant snap and shoot that captured the American imagination in the 70s and 80s. "It's like the modern Polaroid," said David Nibbe. "You don't need the bulky camera anymore though." In a world where more than 50% of Americans are carrying smart phones and more than 50 million people are using Instagram, it is definitely an idea whose time has come. "The technology is exciting. Its usefulness is obvious, and every event Photo.bo's been invited to, the pictures increase interaction and fun. People are loving the technology."
A lot of weddings have begun renting a photo booth as part of their overall package. These can cost as much as $300 an hour. Photo.bo is a much cheaper alternative to the incredible expense of wedding photo booths, and each photo comes with an unique, personal message from the friends of the new couple. What's more, since it uses an online platform, anyone from anywhere in the country can send messages. "Think about a destination wedding," Christopher Unseth, photo.bo's events coordinator pointed out. "A lot of people might not be able to get there. A grandma and grandpa might be all the way in Minneapolis, and the wedding might be in Oregon. Grandma and Grandpa can send a message in real time, a picture of them sitting at home in Minnesota with some good words wishing you well on this, the happiest day of your life. People who aren't even at the wedding can participate in the wedding. What a blessing!"
While Photo.bo is yet unknown, their technology is exciting, and has the potential to really change the way wedding photography is done. "The goal is to get wedding photographers to add Photo.bo's service to their menu of offerings. Photo.bo isn't a replacement for traditional wedding photographer, but it could be an incredible enhancement to what they do as well as the overall wedding experience," Joshua said.
If wedding photographers are ready to add this sort of service to their offerings, there is little doubt that it would be the sort of thing that newlyweds would absolutely love.