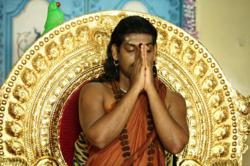 I feel whatever I am seeing, I am living into all that.
Los Angeles, CA (PRWEB) July 19, 2012
Life Bliss Foundation uploaded the video of His Holiness Paramahamsa Nithyananda's latest interview by Samaya TV in India. Paramahamsa Nithyananda with his usual simplicity and grace answered a variety of questions ranging from his enlightenment, his healing powers, the scandals, rumors, the hysteric section of the media trying all its best to defame him, his court battles, Tantric sex and more.
Paramahamsa Nithyananda described the enlightened state that he is established in, by saying, "I feel whatever I am seeing, I am living into all that." "Yes, even in this sofa. Even in this sofa, even in this kerchief. Even in this floor. Anything I can see, I feel that I am alive with the same intensity of how I feel alive inside this skin."
About his healing powers, Paramahamsa Nithyananda says, "No. I am not a doctor in the regular sense. I help people to come out of psychosomatic disorders. See, I will not be able to heal if there is a bone fracture which is physical." "I can heal only the psychosomatic disorders, the diseases which come from the root of the mind like blood pressure, diabetes, heart problem, cancers, which comes from the root of the mind, only those diseases I can heal."
When he was asked if he goes into the Samadhi state to heal people, Paramahamsa Nithyananda said, "Yes, I tune into the Samadhi state. In the Samadhi state, each person the mental patterns which he creates, which forms the root of diseases can be removed and altered. The person can be helped. So, I help the person to remove that pattern by initiation or awakening his kundalini energy, so he gets out of that pattern which is causing the disease. So when he gets out of that pattern, he comes out of that disease."
He also revealed, "In the third stage of cancers also, I will be able to help the quality of life, and there are many people who have completely walked out of cancer, but I can't say 100% everybody has walked out of the cancer. If I have to say the percentage ratio, in first stage& second stage more than 90% of the people walk out of the cancer, whoever I touch. And if it is the third stage, fourth stage, at least 60% of the people walk out of the cancer. But all 100% of the people, the pain comes down and I will be able to heal. That, I will be able to assure 100%."
As for distance healing reports from all over the world, Paramahamsa Nithyananda answered, "When I go into Samadhi, the space and time does not create distance. There is no distance. It is just zero distance. It is just operating from the source. That's the right word." "The source, when you go deep and I go deep, where both of us meet is the source. When I go into deep, when I go into source, I can pull you also into source, because always, all of us like the source."
Paramahamsa Nithyananda answered questions about the reason for the scandals and rumors around him, from both a social and spiritual angle. He said, "I feel in the social level it is black mailing and extortion. In the cosmic level, I feel all Masters, all path finders are path breakers. So naturally when so much of good is done to society, there will be some revolt from some corners of the society, some parts of the society, based on their own unconscious patterns. Each Master has to face this and succeed in this whole war." "It is a fight. I know for sure, I am Dharmic and legal, and Divine is supporting me, I will win the fight. I will win the war." He also assured, "I trust the Indian judiciary, I trust God. We will win."
To watch the entire one hour video of the Interview: http://www.youtube.com/watch?v=By-qMek-R5U&list=PL0FB8081ADA23BF41&index=1&feature=plcp
Paramahamsa Nithyananda conducts a unique and powerful 21 day Kundalini Awakening Meditation Retreat - "Inner Awakening". More details are available at: http://innerawakening.org/
About His Holiness Paramahamsa Nithyananda:
Paramahamsa Nithyananda is a global leader in yoga, meditation, kundalini awakening enlightenment science. Clear, dynamic and modern in approach, Nithyananda's teachings have already transformed 15 million followers in 150 countries with the fastest growing spiritual community around the youngest incarnation. In the past ten years attempts have been made to map Nithyananda's brain, his energy levels, his mitochondria, his DNA. The scientific fraternity is continuously stunned by the results of what they can evaluate.
Paramahamsa Nithyananda has been named among the world's 100 Most Spiritually Influential Personalities alongside Dalai Lama, Nelson Mandela, Oprah Winfrey, Paulo Coelho and others by the one of the world's top esoteric magazine – Mind, Body, Spirit. He has recently inherited the world's oldest and most ancient Hindu Spiritual Organization – the Madurai Aadheenam, by being coronated as the 293rd pontiff of Madurai Aadheenam.