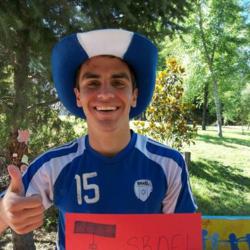 Through experiential, rather than non-formal educational techniques, our shlichim create bonds on a personal level that are not likely to be forgotten
New York, NY (PRWEB) July 20, 2012
Continuing its 45-year-strong Summer Shlichim program, The Jewish Agency for Israel has brought to North America 1,054 young Israelis who are serving as ambassadors of Israeli culture while working at Jewish summer camps across the United States and Canada. With roles that include cabin counselors; Israeli dance, cooking, art and Hebrew instructors; wilderness leaders and sports coaches, the shlichim—or Israeli emissaries—are engaging with campers at camps serving large Jewish communities, as well as significantly smaller ones.
The Summer Shlichim program is part of The Jewish Agency's Shlichim and Israel Fellows Unit which brings Israeli educators to strengthen ties between Israel and Jewish communities worldwide. As staff members at Jewish summer camps in the United States, Canada, Europe, Great Britain and South Africa, shlichim work in all camp settings, bringing their legendary passion for Israel to more than 80,000 Jewish campers and camp staff.
Shlichim are trained, experienced leaders who have served in the Israel Defense Forces (IDF) or National Service, speak English, and come prepared and eager to build lasting relationships with fellow Jews. Often, camping is the first substantial experience for young North American Jews to learn about Israel and connect with Israelis first-hand. Campers learn about life in the Jewish state and the realities of IDF service, while ultimately developing stronger attachments to the global Jewish family—attachments that are critical to a secure Jewish future.
The Jewish Agency has brought more shlichim to North America this summer than it has in recent years. The 1,054 delegates for 2012 compare to 1,029 last year, 1,020 in 2010, and 1,026 in 2009. Shlichim are currently working at more than 200 camps in 150 communities in 35 states and provinces, including large delegations at camps serving New York, Washington, D.C., Philadelphia, Chicago, Los Angeles, San Francisco and Atlanta.
Summer shlichim serve in both overnight camps and day camps. Those in day camps are hosted by area families, providing a home cultural experience for the young Israelis and a personalized experience with Israel for the host families.
Also, this year, for the first time, North American Jewish communities are connecting with summer camps to bring shlichim to serve their communities year-round. The goal is to create a sustained connection between camp and a camper's life the rest of the year, in order to further reinforce the impact of camp on a child's emerging Jewish identity.
"Through their presence in communities in advance of camp, year-round shlichim provide additional value in developing relationships with community members through which they can help to recruit campers, bolstering further the impact of Jewish camp on the overall community," said Ariella Feldman, director of shlichut initiatives for The Jewish Agency.
Feldman added that the program benefits not only the campers and camp staff with whom the emissaries interact directly, but also the broader Jewish communities sponsoring them.
"Jewish camping has been cited by studies as one of the most important ways for Jewish young people to explore their heritage, connect with fellow Jews and discern how Judaism can play a continuous and enriching role in their daily lives," Feldman said. "Jewish summer camps strengthen Jewish identity in both campers and staff. What our program adds is a foundation for building and maintaining pride in Israel, reinforcing their pride in Judaism, which campers and counselors bring back home to their friends and family after camp.
"In truth, it's a process of mutual enrichment. The shlichim not only contribute to the communities that they are placed in across North America, but return to Israel with a better understanding of the diversity of Jewish life. Through experiential, rather than non-formal educational techniques, our shlichim create bonds on a personal level that are not likely to be forgotten."
About The Jewish Agency for Israel
Investing in a vibrant Jewish future, The Jewish Agency for Israel continues to address the greatest challenges of our People in every generation. We connect the global Jewish family, bringing Jews to Israel- and Israel to Jews. We build a better society in Israel- and beyond- energizing young Israelis and their worldwide peers to rediscover a collective sense of Jewish purpose. At the same time, The Jewish Agency continues to be the Jewish world's first responder, prepared to rescue and bring Jews home to Israel from countries where they live at-risk. More information can be obtained at http://www.jewishagency.org.