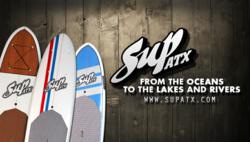 San Juan Capistrano, CA (PRWEB) July 20, 2012
SUP ATX will be releasing its new board lineup, including a new fishing category, at Outdoor Retailer in Salt Lake City this August as well as announcing its international expansion. Founded in 2009, SUP ATX gained immediate traction in the market and quickly became the SUP industry leader. With over 30,000 SUP's sold in the USA, SUP ATX will now be expanding to Asia, Australia, Europe, and South America.
"We're thrilled to have fulfilled our stated mission of popularizing the sport of stand up paddling in North America and are looking forward to comparable growth trajectories in four additional continents worldwide", said Nick Matzorkis, SUP ATX's Founder and Chairman. "SUP ATX's dominating online presence and effective use of social media has fueled rapid growth of the Stand Up Paddleboarding industry, causing demand for quality products to skyrocket around the world. With manufacturing in three countries and distribution on five continents, SUP ATX is well positioned to meet growing global demand."
"In addition to expanding internationally, we are also expanding our product line to meet the needs of the increasingly dynamic marketplace by introducing a number of new categories including flatwater, surf, race, excursion, yoga, inflatables and fishing", said Chris Dunn, SUP ATX's CEO. "For instance, our revolutionary USA-made FXR Sport Fisher is a truly unique board designed for the emerging SUP fishing marketplace. We're excited to be unveiling the FXR along with our entire new line of paddle board categories at Outdoor Retailer this year."
SUP ATX's product lineup is further complimented with new private label partnerships with major retail stores and established brands as well as a complete lineup of new paddles and accessories. The addition to an already deep lineup of high quality boards will further enhance the position of SUP ATX in the market place.
SUP ATX will be at booth 409 & 410 at the Open Air Demo on August 1st and will be at booth PV400 at the Outdoor Retailer Summer Market Expo August 2nd thru August 5th. For more information on Outdoor Retailer Summer Market visit http://www.outdoorretailer.com/summer-market/.
About SUP ATX
SUP ATX is the #1 Stand Up Paddle Board Maker on Earth! Founded in 2009, SUP ATX designs, develops and manufacturers SUPs for oceans, lakes and rivers worldwide. The SUP ATX line of SUPs have defined and revolutionized the SUP industry worldwide, officially moving the sport from the shores of Hawaii and Malibu to lakes, rivers and surfing areas everywhere. Quality, customer service, and value are SUP ATX's principles in delivering the best SUP in the marketplace. Visit: http://www.SUPATX.com/ or call 1-866-4-SUPATX to learn more.