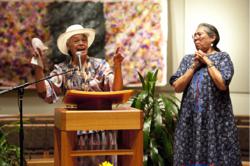 The meeting represented a step by Native people to build national coalitions on human rights issues.
SANTA CRUZ, CA (PRWEB) July 23, 2012
At the event at Resurrection Church in Aptos, CA, California Ohlone leader Ann Marie Sayers welcomed Lakota activist and grandmother Madonna Thunder Hawk in a historic meeting that marked the first time a Pacific coastal tribe has welcomed the first nations of the Great Plains. The meeting represented a step by Native people to build national coalitions on human rights issues. Sayers pledged support for efforts led by Thunder Hawk and other Lakota grandmothers working with the Lakota People's Law Project (LPLP) to find and regain custody of their grandchildren who have been taken by the state of South Dakota.
Madonna Thunder Hawk presented an account of the disregard of Federal law by South Dakota state officials, who are seizing as many as 700 native children every year from their homes, as was revealed in the October 2011 NPR report by Laura Sullivan, "Native Foster Care: Lost Children, Shattered Families." Thunder Hawk's account detailed the journeys of these children, who are taken by the DSS and are subsequently placed into white foster care homes or with white foster parents, a violation of the Indian Child Welfare Act. These seizures generate millions of dollars in revenue for the state, because states like South Dakota often get $4,000 per child (up to $12,000 for children with special needs) from the federal government if they move children out of foster care and into adoption, according to Sullivan's investigation. Sullivan also revealed that ten years ago South Dakota designated all Native American children special needs, so Native American children who are permanently removed from their homes are worth more to the state than other children.
"The situation in South Dakota, with these children, with these people, is very bad," stated Thunder Hawk, looking out into an audience of over 120 people. "The grandmothers are doing everything we can to get our children back."
Other speakers at the ceremony were Chief Counsel Daniel P. Sheehan and Executive Director Sara Nelson, leading members of the Lakota People's Law Project who each spoke of the dire need of national and community support of the native children that are being taken from their families, homes, and tribes. "This kind of darkness that is going on in the state of South Dakota, in the establishment of the state of South Dakota... the only way that evil prevails is if good people do not do anything about it, " said Nelson. "We are all the answer to this kind of behavior. Everything that happens, happens because people make choices. There are people making choices about policies, there are people making choices about how they implement programs, it's all about choices. If we make the choices that bring in the light and that are made from our hearts rather than from greed and oppression and injustice, then we turn the tide."
The meeting was the capstone of a community celebration called "A Tribute to America's First People," and was endorsed by a wide variety of faith communities, community groups, and human rights organizations. Taking place from 5:30 – 9 pm, the evening was split into two parts, a BBQ dinner and a night program featuring an Ohlone welcoming ceremony for the Lakota. Guests mingled and learned more about LPLP's work over a dinner featuring buffalo burgers. Children enjoyed Lakota games, crafts, and stories, while a live band, the Mystic Troubadours, filled the air with their music.
To see photos of "A Tribute to America's First People," please visit https://www.facebook.com/LakotaPeoplesLawProject
The Lakota People's Law Project is sponsored by the non-profit Romero Institute of Santa Cruz, CA. The Romero Institute, named after slain human rights advocate, Archbishop Oscar Romero of El Salvador, seeks to identify and dismantle the structural sources of injustice and threats to the survival of our human family.
For more information about the project, please visit http://www.lakotalaw.org