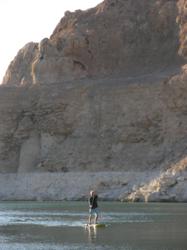 This rugged high desert country is ideal for exploration and adventure.
Pony Express Territory, Nevada (PRWEB) July 25, 2012
Northern Nevada's Pony Express Territory, along Highway 50 known as the "Loneliest Road in America", encompasses six friendly towns − Dayton, Fallon, Fernley, Austin, Eureka, and Ely. Each of these towns features its own list of summer outdoor recreational sensations. The route linking these towns has come to be known as one big 17 million acre recreational haven, and just one visit will explain first-hand why.
With approximately two-hours of driving distance between each town, plenty of opportunities await visitors who enjoy hiking, swimming, fly-fishing, camping, ATVing, mountain biking, picnicking and more. Complementing all the off-road adventures are other points of interest such as ghost towns, historical cemeteries and walking tours.
Here are the top six recommended summer outdoor recreational sensations in each Pony Express Territory Town.

Dayton State Park– Just a short drive from Carson City, Nev., Dayton is where Nevada's first gold was discovered in 1849. Known for its open space, its surrounding mountain ranges and rivers are abundant and are perfect for hiking, walking and exploring. Dayton State Park consists of 160 acres with desert topography, hiking trails, campsites with the lower park bordering the Carson River.
Pyramid Lake near Fernley – Fernley is proud to be among Nevada's newest cities, incorporated in 2001, and it's growing up quickly. Fernley is a gateway to the annual artistic extravaganza - Burning Man, as Black Rock City which edges on Fernley is home to Burning Man. Travelers should take the half-hour drive to the strikingly beautiful Pyramid Lake offering fishing and water activities like boating and sailing. Pyramid Lake is on the Paiute Indian Tribe Reservation.
Sand Mountain – Head east for a few miles from Fallon on Highway 50 and be greeted by a 600 foot-tall, two and a half mile long Sand Mountain, known as an off-roader's paradise for ATVs and dune buggies. The Sand Mountain recreational area includes remnants of the Sand Springs Pony Express Station which was covered by sand for over a hundred years until a team of archaeologists rediscovered it in 1977, and excavated and stabilized it. The Sand Springs Desert Study area is preserving and highlighting the flora and fauna as it was during the Pony Express with a half-mile self-guided interpretive loop trail sharing about the wildlife, plants, history and geology of the Sand Mountain area.
Mountain Bike Austin – Seven spectacular mountain biking trails offering varying terrain like rocky, brush-covered hillsides to more leisurely flats and rolling terrain. Some of the most popular rides include Castle Loop and the Pony Canyon Down Hill Trail and five others.
Sport Shooting in Eureka – Every month in this town, Perdiz Sport Shooting Inc. hosts an event welcoming visitors to sport shooting, target practice, skit shooting or archery. "This rugged high desert country is ideal for exploration and adventure," noted Eureka County Cultural, Tourism and Economic Development Director, Andrea Rossman.
Railroad Reality Week – A highlight of this area, bringing visitors back year after year is Ely's Nevada Northern Railway where people can operate a historic locomotive. During the annual Railroad Reality Week, participants spend a week working on a National Historic Landmark railroad, experiencing what it was like during the golden age of railroading.
Visit The Pony Express Territory online for more informaiton or call 1-888-359-9449.
The Pony Express Territory welcomes the media to its online press room.
ABOUT THE PONY EXPRESS TERRITORY
Nevada's Pony Express Territory sits on 17 million acres of wide open space with 150 years of rich history, rugged undisturbed nature and black night skies. The Territory is where the Pony Express riders once galloped along its main trail, now Highway 50, connecting the six adventurous towns of Dayton, Fallon, Fernley, Austin, Eureka and Ely. 1,840 miles of wilderness was crossed in the Nevada "Pony Express Territory". Twenty years ago Life Magazine designated this section of Nevada State Highway 50 – "America's Loneliest Road."