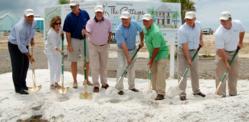 Gulf Shores, Alabama (PRWEB) July 23, 2012
City officials, civil leaders and local entrepreneurs gathered in Orange Beach to break ground at the site of the new luxury development, "The Cottages at Romar." Situated immediately west of the "Beachside Romar," subdivision, the more than 12-acre plot of land is slated to house 29 individual homes ranging in size from 1,300 sq ft guest cottages to Gulf front cottages of more than 3,000 square-feet. With a four month timeline in the works until completion of the lots and community areas, the individual lots are currently "for reserve," and will be available for purchase in the near future. Leonard Kaiser, along with Co-Developers Paul Stewart and Dr. Steve Hicks are working with McCollough Architecture, Pat O'Neil Interiors and WAS Design to provide lot purchasers with the best materials and direction in designing their custom home on the exclusive community.
"I am excited and proud to once again see a project of this magnitude coming to our beautiful beaches," stated Kaiser. "This exclusive yet inviting community was developed to entice both present and future residents of the Gulf Coast. The Cottages at Romar offer something truly exceptional."
Featuring 10 beachfront lots, 12 pool side lots and seven "cottage" sized lots, the community will feature a gated entry, centrally located, zero-entry outdoor swimming pool, and additional parking spaces.
"The Cottages at Romar will be an oasis on the beach," stated Hicks. "I am excited to be a part of a development that projects the feel of Orange Beach that we have come to know and love."
For additional information, community renderings and potential property blueprints, visit http://www.CottagesAtRomar.com.
###
Photo Caption: Representatives from McCollough Architecture, Kaiser Realty, Inc., Pat O'Neil Interiors and WAS Design gather with developers Leonard Kaiser, Steve Hicks and Paul Stewart and Orange Beach Mayor, Tonny Kennon to break ground at the future site of the luxury vacation home development "The Cottages at Romar."
Contact:
(251) 968-6868
Follow Up Questions: Emily E. Gonzalez, Marketing/Public Relations Director, EmilyG@KaiserRealty.com
Written and Distributed By: Adam Pfaff, Public Relations Coordinator, AdamP@KaiserRealty.com
http://www.KaiserRealty.com
About Kaiser Realty, Inc.: Since 1980, Kaiser Realty, Inc. has been renting, selling and managing the finest vacation homes and condominiums available in Gulf Shores and Orange Beach. With the blue green waters and sugar white sand beaches of the Gulf Coast, it is hard to find a more beautiful location for your next home or home-away-from-home. Offering Gulf front condominiums ranging from 1 to 6 bedrooms and vacation homes sleeping up to 30 people, Kaiser Realty will help you create the perfect vacation, retreat, wedding or work function. Visit us at http://www.KaiserRealty.com or call (800) 225-4853 to speak with one of our Reservation Professionals, Sales Representatives or Rental Managers today!
Corporate Mission: "Kaiser Realty, Inc. has a tradition of fulfilling dreams for our customers, our employees and in our community. Our philosophy is to deliver exceptional, professional service with integrity, enthusiasm and a genuine caring attitude. Whether it's for a vacation or a lifetime, our family is committed to yours."