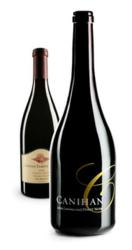 We hear over and over again how important labels are in influencing the consumers purchasing decision.
Richmond, CA (PRWEB) July 25, 2012
Monvera Glass Décor, a leading provider of etched wine bottles and screen printed bottle labels has reorganized and revamped their design service offerings provided by the Monvera Art and Design Department. Wineries and other clients now have several service levels that they can choose from depending on their design needs and budget. This in-house service makes it easy for customers to combine label design and label printing together.
Clients can bring their current paper label design to Monvera and have a screen printed version developed that still retains the existing brand identity. In addition, a version can be developed for bottle etching too. This approach is suitable for wineries that would like to revamp their existing labels without going through the expense of an entire rebranding program. The customer can opt to revamp their entire line or just use it for specific categories of wine to differentiate them from the rest e.g. reserves, wine club wines, late harvest wines, limited and special releases. The transition from a paper label to a screen printed label elevates the look of the existing label and completes the upgraded look of the package. Design offerings include designing a label for printing on wine bottles using existing logo and art elements.
"Often, the customer has a vision for what they want the label to look like and we take those components and repackage them into a beautiful screen printed label or a label for wine bottle etching." says Caitriona Anderson, Monvera's VP of Sales & Marketing. "During the process we are able to incorporate many design techniques that lend themselves to the screen printing process such as full wraps, side label etc. We hear over and over again how important labels are in influencing the consumers purchasing decision. Packaging plays a critical role in making that first sale to a new consumer. Our customers need a resource to support them in the crucial decisions that have to be made about their package. We are happy to be able to provide a full service to our clients between the label design and optimization followed by the actual decoration of the bottle. This streamlined effort saves time and money."
About Monvera Glass Décor:
Monvera provides industry leading glass decoration services such as screen printing, bottle etching and decals to the wine & spirits, beer, cosmetics, specialty food and beverage industries. Monvera's team of dedicated professionals is committed to providing the best quality and customer service available. We are located in a 42,000-square foot facility in Richmond, CA. With multiple ovens and printing machines, Monvera can accommodate any order size, from 100 cases to thousands. Clients include Boisset Family Estates, Frank-Lin Distillers, Garrett Markenson Coiffure and Veronica Foods. To learn more about Monvera visit http://www.monvera.com/.