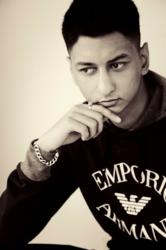 I have the passion and motivation to become a fashion model
London, UK (PRWEB UK) 24 July 2012
Black haired and brown eyed, 25 year old Waheed Khan is 6'1" and has not only the attitude of a fashion model, but also the right measurements.
'Waheed Khan is an experienced model who has undertaken a number of photo shoots both amateur and professional,' explains Helen Smith, director for La Mode London. 'He has taken part in auditions for the Mahogany Fashion Show 2010 and is passionate about modelling and very motivated.' She goes onto explain this is vital for a successful modelling career. 'He works hard to stay up to date with the latest happenings in the fashion world, which is crucial for every model. It is so important to be on Vogue, to wear the latest trends and to show you have the finger on the pulse of a very fast-moving and very fast changing world.'
Specialising in commercial photography, La Mode London are the experts in providing all the latest modelling advice as well as offering top-class photo shoot services for any aspiring model. The company at the heart of the modelling London industry have a great overview of what really goes on in the high end fashion industry. Their famous photo shoot days certainly reflect a day in the life of a catwalk model, something Waheed is very keen to get into. Their latest signing absolutely loved his time in front of the camera, but it also seems he was a natural, his previous experience doing him justice La Mode say.
'It was obvious from the start that Waheed has undertaken some modelling before. It was great to work with a model with a little bit of experience behind them, but one who knows he still has more to learn.'
No stranger to the modelling circuit, Waheed has participated in the auditions for the Mahogany Fashion Show but he has also undergone photo shoots with a freelance photographer in Windsor, and was lucky enough to get a professional photo shoot at Cover Girl Studios in London.
Waheed enjoys sports, clubbing, health and fitness, shopping, music, cooking, travelling, and many other things in his spare time. He likes nothing more than socialising with fellow models. Helen said the photo shoot day was a blast and that he fitted in so well and wasn't shy about making friends.
When asked why he wanted to become a model he said,
'I have the passion and motivation to become a fashion model, ideally as a runway catwalk model. This is because I have the physical requirements and interest in socialising with high end fashion models.' He continued, 'I always have been told by friends, family and work colleagues that I have the dedication and interest in fashion. Moreover I am very much interested in being kept up to date with the fashion industry, as I am into designer garments.'
Helen feels that his knowledge and experience that their latest male model have will only serve him well in the future and the more photo shoots he undertakes, they don't doubt that he will get more and more confident as he goes along, and certainly will get modelling work on the catwalk, if he shows as much hard work and diligence as he did in his recent photo shoot.
'Waheed takes direction very well, which again is essential for model to make a name for themselves in the high end fashion industry. It's great to have confidence, but it also good to show humility and to be able to take direction from the experts. He certainly has a lot of model application.'
Waheed says, 'I am interested in available for advertising and commercial modelling, as well as catalogue, editorial, exhibition and promotional modelling,' he said. Not shy about his looks, Waheed would also consider taking on glamour modelling and also life modelling for artists.
See all of La Mode London's latest modelling portfolios as they are launched online at http://www.lamodelondon.com