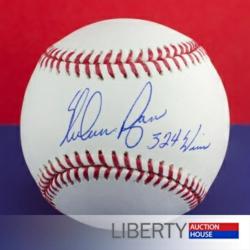 LibertyAuctionHouse.com, which utilizes PSA/DNA Authentication Services
Laguna Niguel, California (PRWEB) July 22, 2012
LibertyAuctionHouse.com known for it's Free Police Auctions, will auction off Hall of Fame Signed Baseballs including: Barry Bonds, Nolan Ryan, A-Rod, and Don Mattingly starting monday.
LibertyAuctionHouse.com, which utilizes PSA/DNA Authentication Services, determines the value or provenance of an item. Michael Strom, CEO of LibertyAuctionHouse.com tells the story of an individual client who purchased a baseball he thought to be autographed by baseball legend Joe DiMaggio. The expert told him it wasn't real.
"The customer stated it was authentic because he was there when DiMaggio passed it to him, and the authenticator asked him if he actually saw DiMaggio sign it," Authenticator says. The man admitted he didn't, that DiMaggio had pulled out a autographed ball from his bag.
That, says the authenticator, is what is called a "clubhouse ball," a time-honored baseball past-time in which the players pay the clubhouse boy to sign (baseballs) for them.
However, the authenticator can work in the seller's favor, as a comic book collector's wife found out. She almost sold her late husband's collection to a dealer for $25,000 simply so she could pay off the storage unit where the comic books were stored. Instead, she found a fortune, making $3 million at a Heritage auction.
Whether you're a buyer or seller on the Internet auction scene, make sure you understand the rules of the game.
The basic online auction, like the Police Auctions and Jewelry Auctions held on Liberty Auction House, works like those in real life: Bidders increase the amount they will pay for the item until time runs out and the top bidder wins. Sometimes an auction has what's known as a "reserve" or the lowest price the item's owner will accept for the item, and sometimes it doesn't. Items that fail to meet the reserve bid go unsold.