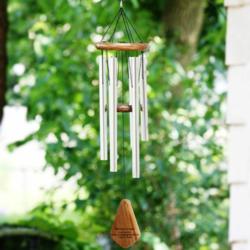 "When the cards have stopped ... it's a way to let them know we're still thinking of them."
Geneva, IL (PRWEB) July 24, 2012
Finding the right way to comfort a close friend after a loss can be a challenge. But how should a company express sympathy for the loss of a loved one to grieving employees?
Is it even a company's place?
Absolutely, says Jeff Gilheney, Vice President of Human Resources for NuCO2 Inc. Since 2005, NuCO2 has been sending gifts such as wind chimes, stepping stones and picture frames to employees who have lost loved ones. "As a business person it starts with your employees. We want them to feel the company supports them in good times and in times of grief," he said.
Dovin and Reber Jones Funeral & Cremation Center in Amherst, Ohio sends a picture frame to customers several weeks after the funeral. "When the cards have stopped and the family has gone home, it's a way to let them know we're still thinking of them," said owner Tina Marini Dovin.
Frames, garden décor, holiday ornaments and even live trees are great corporate gift choices. "These have universal appeal and are permanent, gentle reminders," said Renee Wood, president of the Comfort Company, a leading sympathy gift retailer, based in Geneva, IL.
NuCO2 based in Stuart, Florida, supplies carbon dioxide to the food and beverage industry and has about 950 employees spread out at 150 locations throughout the country. Previously, the company sent funeral flowers to employees in sympathy for loss but shifted to a gift as a way to provide a lasting keepsake and standardize the program. "Using one vendor for all of our locations really helps simplify the process," Gilheney said.
NuCO2's executive assistant orders the gifts, and usually has a death to recognize about every other week. The company follows its bereavement leave policy to choose which deaths to recognize, Gilheney said.
Keeping the gifts standard makes budgeting easier and prevents other issues that arise when no formal policy is in place. "It takes the questions out so there are no gray areas. We feel that keeping it uniform makes the giving easy and consistent," he said.
Religious concerns do not come into play. "We don't include any mentions of it; it's more of an expression of sorrow and support in a difficult time," Gilheney said.
From the thank you cards received, NuCO2 knows that their employees truly appreciate the gesture.
While the gifts are good for business, Dovin said they also strengthen personal ties to the families she serves. "People tell us in detail about the photo they've placed in the picture frame and how many times a day they look at it. We're so glad to know the families think as much of the gift as we did choosing it," she said.
Tips for Starting a Workplace Bereavement Program:
Designate—choose one person to handle the task.
Standardize—determine which deaths to recognize and set a budget.
Simplify—find a reliable vendor and select your company's signature gift.
About The Comfort Company, Inc.
TheComfortCompany.net is an online retailer dedicated to the development and sale of meaningful sympathy and memorial gifts. The company was founded in 2002 by Renee Wood, a medical social worker who became frustrated with the lack of appropriate sympathy gifts available to comfort those who are grieving.