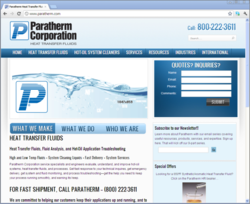 Although the site is designed without roadblocks in order to enable free access to information, it also facilitates communication between Paratherm, the customer, and the industry's equipment and component manufacturers.
West Conshohocken, PA (PRWEB) July 24, 2012
The new website at http://www.paratherm.com completely reorganizes the information about Paratherm's products, services, people and departments.
When end users need access to technical information about heat transfer fluids, whether for a new application or for replacing spent fluid, they will visit websites of fluid manufacturers. In many cases, they will find roadblocks placed in front of the information, in the form of web registration requirements or request forms.
Paratherm's new website presents thorough information about the eight heat transfer fluids Paratherm manufactures, as well as additional information about the safety, operation, and maintenance of heat transfer fluids and the heaters, systems, and applications involved in their use.
No registration is required to access any of the information on Paratherm's new website. No forms are required to request specific product information. Engineering bulletins, safety data sheets, properties versus temperature, relief valve sizing guidance, and more are available for each heat transfer fluid product.
In addition, Paratherm's website features two databases of advisory information for users of heat transfer fluids and related processing equipment. The User's Guide for Heat Transfer Fluids and Systems contains over twenty articles written to provide practical assistance in the safety and operation of heat transfer fluid applications. Titles cover contamination, fire prevention, removing water, fluid maintenance, fluid analysis, system components, cleaning systems, and more.
Paratherm's Tipsheet for Hot Oil System Operators is an email series. Short monthly emails cover topics such as fluid properties, leakage, maximizing fluid life, system insulation, shutting down and starting up systems. These articles can also be read on the Paratherm website.
The home page at http://www.paratherm.com features three panels: What We Make, What We Do, and Who We are. These panels describe the heat transfer fluids and system cleaners, the services, and the people and teams at Paratherm.
The website has six main sections: Heat Transfer Fluids, Hot Oil System Cleaners, Services, Resources, Industries, and International.
The Heat Transfer Fluids section displays an overview of Paratherm's eight heat transfer fluids, which operate in a range of temperatures from -127ºF (-88ºC) to 650ºF (343ºC). The temperature range for each fluids is shown beneath a thermometer image, with links to the individual fluid pages featuring deeper links to the specific documentation for each product.
Paratherm's system-cleaning products for mineral-oil based and synthetic-based systems are featured in the Hot-Oil System Cleaners section.
In the Services section, fluid analysis and fluid maintenance programs are thoroughly described, as well as system layout consultation and troubleshooting.
The Resources section contains the User's Guide, the technical Tipsheets, Articles and White Papers, and Trade Show appearances. In the International section you'll find a listing of Paratherm's worldwide representatives and distributors, and a link to Paratherm's Spanish-language site at http://www.fluido-termico.com.
Although the site is designed without roadblocks in order to enable free access to information, it also facilitates communication between Paratherm, the customer, and the industry's equipment and component manufacturers. A simple form available on nearly every page of the website enables visitors to ask questions about whatever that page features, whether a product, a service, or technical advice.
In addition, each product page has its own form that will automatically send full technical and safety information via email. Interactive forms on the site also allow subscribers to receive Paratherm's valuable Tipsheets and User's Guide articles as email series, as well as a 9-part series that describes Paratherm's products, services, and capabilities in depth.
About Paratherm Corporation:
Paratherm's Submersibles team provides advice, expertise, and analysis for thermal fluid systems and heat transfer fluids. Through their relationships with heater and equipment manufacturers, and their focused attention on the needs of customers, Paratherm engineers deliver smoothly operating systems and applications, and maximum production, to processors that choose Paratherm. Manufacturing and marketing non-toxic, high efficiency heat transfer fluids (also called thermal fluids or hot oils) since 1988, Paratherm Corporation currently has a customer base of over 3,000 users, largely in the chemical, food processing and plastics industries. The line consists of eight products performing at temperatures from -127° F to +650° F.