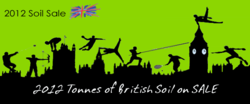 (PRWEB UK) 23 July 2012
As one of the UK's leading topsoil suppliers, Dandy's have decided to join in with the 2012 celebrations across the country by ear-marking 2012 tonnes of their quality topsoil blends to be sold off at knock down prices.
This is one in a long line of promotions being rolled out by Dandy's this year and it follows hot on the heels of their up to 50% off sale and the slew of voucher codes they have been releasing via social media.
The company also celebrated being British earlier this year with some Jubillee promotions including the 'Dig for Victory' campaign and new products such as Multi Purpose Topsoil and their 'Dig for Victory' vegetable growing kits.
Last week the company also launched their new reward scheme, "Dandy Points" which awards points to customers which can be exchanged for monetary discounts off future orders.
The combination of Dandy's 'bigger bulk bags' and the incredibly low offer price mean that the company expects the stock pile of 2012 tonnes to sell out fast; so they are encouraging savvy shoppers to grab the goods whilst they're still available!
ABOUT DANDY'S:
Dandy's Topsoil began selling their gardening products online in 2004 when they were the first in the industry to sell topsoil. They remain UK market leaders in the top soil industry, producing new, innovative and bespoke blends each year.
The company recently received funding from the Welsh Assembly Government to assist in new projects which will bring jobs and new business to North Wales.