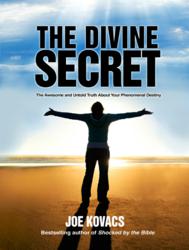 The book sold out its advance orders from Amazon.com, even before its official release date. Hitting number one after that, according to [publisher Bruce] Bortz, was no surprise.
Baltimore, MD (PRWEB) July 24, 2012
Joe Kovacs, author of the well-reviewed and Amazon.com-bestselling 2008 book Shocked by the Bible, has hit number one again. The Divine Secret: The Awesome and Untold Truth About Your Phenomenal Destiny debuted as Amazon's bestselling inspirational book on July 17, 2012.
He followed it up on July 20 with an appearance on radio show The Savage Nation, where the book was presented to Michael Savage's 10 million listeners.
An acclaimed journalist with more than 25 years in broadcast, print, and online media, Kovacs has received numerous awards for excellence in news coverage from the Associated Press and United Press International. He wrote The Divine Secret after noting, with his previous release, how many readers had a voracious interest in their destiny.
"I'm amazed that so many of my fellow Christians simply don't know their magnificent and intended destiny as outlined in the Bible," says Kovacs, who is also the executive news editor for the Internet's leading independent news site. "It's far more spectacular than just floating around on a cloud for all eternity. You'll be astounded by how much solid information the Bible provides right now on the fantastic future that's on its way."
Specifically, Kovacs writes of how all people are meant to be "members of God's own divine family, actually sitting down on the throne of God, reigning and ruling over the nations once Jesus comes back to Earth."
"It will be an actual government that'll be headquartered here on this planet, and no longer in the unseen dimension we call Heaven," says Kovacs. "All these sentences are in your Bible right now, and they've been there for hundreds of years."
Alongside exploring numerous specific and fascinating scriptural details most Christians typically overlook, The Divine Secret is also distinct for exploring numerous translations of the Bible to ensure its scriptural accuracy. In addition, all of God's personal remarks, from the Old Testament as well as the New, are displayed in red letters—a rare feature.
According to Bancroft Press publisher Bruce Bortz, the book sold out its advance orders from Amazon.com, even before its official release date. Hitting number one after that, according to Bortz, was no surprise. Sales for ebook and audio versions have been "exceptionally robust." And early response from readers, as per Bortz, has been "excellent."
"We've already heard from readers as far-flung as Australia and Scotland," says Bortz. "They're amazed at all the important information their ministers just plain don't talk about."
Bob Barney, editor of ThePlainTruth.com, notes that "if you keep an open mind, you'll never be able to put this book down until every delicious page is read." John Pinkston, host of the nationally broadcast Watch America radio and television programs, says that Kovacs "opens the veil of mystery God spoke of in the Bible." And Joseph Farah, editor and CEO of WND, calls The Divine Secret "another winner" from Kovacs.
"This isn't just a book for religious readers," says Bortz. "It's for anyone who wants to know what the Bible actually says about how we should live our lives."
"There's a brilliant, divinely ordained plan in the works," says Kovacs, a frequent guest on shows like The O'Reilly Factor and Coast to Coast AM. "When you read the Bible as you would any other book, this great mystery becomes as clear as day."
The Divine Secret is available on Amazon, Barnes & Noble, and wherever books are sold.
Bancroft Press has been a leading independent general interest publisher for the past 20 years.