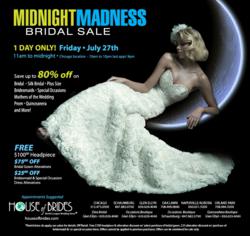 The turnout is expected to be higher than ever because the deals are so exclusive..", explained Eva Buziecki, President.
Glen Ellyn, Illinois (PRWEB) July 26, 2012
House of Brides is putting the finishing touches on their popular Midnight Madness Bridal Sale starting tomorrow, July 27th. Due to an increased marketing effort, House of Brides expects their highest turnout ever. The salons received an immediate response since the sale's announcement on Monday. Management reported appointment times booking to capacity early in the week.
House of Brides is advertising storewide sale prices of up to 80% off original retail prices. Advertised savings are offered for wedding dresses, designer Silk wedding dresses, Diva plus size dresses, bridesmaid dresses, special occasion dresses, Prom and Quinceanera gowns. Savings are available on additional collections and products.
"We've never had a sale to this scale before. The turnout is expected to be higher than ever because the deals are so exclusive. Hopefully every woman who is in need of a bridal gown or bridesmaid gown has made her appointment, because they were filling up rapidly!" explained Eva Buziecki, President of House of Brides.
Customers have shown the most interest in the special promotions offered on Friday only. The promotions include a free $100 headpiece with the purchase of a wedding dress during the Midnight Madness Sale. Additionally, customers purchasing their gown will also receive $75.00 off their bridal alterations.
Customers purchasing a bridesmaid dress receive $25.00 off their bridesmaid alterations. Customer purchasing a special occasion dress will also receive $25 off their alterations.
House of Brides strongly suggests making an appointment to work with a House of Brides consultant. To view the Midnight Madness Bridal Sale ad, visit http://www.houseofbrides.com and click on the Store Promos page.
The Midnight Madness Bridal Sale is Friday, July 27 at all ten Chicagoland House of Brides salons. Sale hours are 11:00am to Midnight CST and 10:00am to 10:00pm for the Chicago location only. Appointments are recommended and limited.
About House of Brides:
House of Brides established its first brick-and-mortar store in 1929 and has since grown to 10 Chicagoland stores and global E-Commerce website, http://www.houseofbrides.com. Millions of Brides and their wedding parties visit the salons and global website for over 37,000 wedding and special event products.