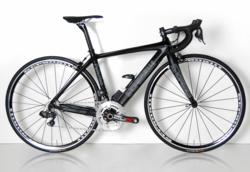 Brenda Lyons is a true pro and we are pleased to include her in Team Stradalli Cycle
Pompano Beach, FL (PRWEB) July 23, 2012
Stradalli Cycle, the high performance carbon fiber bicycle manufacturer, is pleased to announce that professional cyclist Brenda Lyons will be riding for Team Stradalli Cycle during the UCI Masters at St. Johann in Tirol. During the event Brenda will be riding a Stradalli Palermo Black Edition with Shimano Ultegra Di2 electronic shifting.
Every year the Austrian market town of St. Johann in Tirol hosts one of the oldest continuously run World Masters Cycling Federation races in the world. This world class event attracts competitors from all over the world. Competing for Team Stradalli Cycle in this year's road race, which will be held between August 25 and August 28, 2012, is professional cyclist Brenda Lyons.
After three solid seasons as an amateur, Brenda became a professional cyclist in 2002. Over the next five years Brenda competed at the very highest levels of the sport. And as a result she has raced on some of the best teams in the nation and become a nationally ranked rider.
"Stradalli Cycle has proudly sponsored the Masters at St. Johann in Tirol for the last 3 years. It is a prestigious event that caters equally to men and women," said Thomas Steinbacher of Stradalli. "Brenda Lyons is a true pro and we are pleased to include her in Team Stradalli Cycle."
The Di2 technology(Digital Integrated Intelligence) used on the Stradalli Palermo Black Edition offers a superb balance between shifting speed and shifting accuracy. Using touch technology, gear change is almost instantaneous, giving Brenda faster and more precise shifting with automatic trimming. This advanced technology will help Brenda as she battles with the other competitors on the mountainous circuit.
About The Stradalli Cycle Company
With its main facility in Pompano Beach Florida, the Stradalli Cycle Company sells worldwide to the top athlete who demands the best quality equipment and the most competitive prices. With years of experience in both high tech manufacturing and design, as well as a love for cycling, Stradalli brings passion and innovation to the full carbon fiber bicycle market.
Contact
http://www.stradalli.com
sales(at)stradalli(dot)com
No virus found in this message.