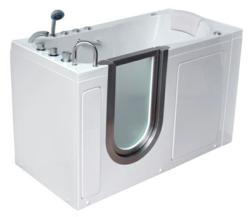 This new low price guarantee is another thing that will add to the peace of mind for our customers, besides our high quality walk in tubs.
Louisville, CO (PRWEB) July 25, 2012
Innovations in walkin bathtub technology from Aging Safely have made accessible bathtubs more affordable for seniors and people with limited mobility. The company has instituted a low price guarantee that assures customers of the lowest available price anywhere on walk bathtubs. This guarantee extends to people who have received a recommendation from their doctors to seek warm air hydrotherapy for relief from arthritis, back pain, poor lower-body circulation and other chronic health conditions.
Unlike a conventional bathtub that has solid sides and necessitates lifting the legs over the lip of the tub and bending to sit or lie in it, a walkin bathtub is fitted with an opening that allows the bather to move into the bath without stretching, kneeling or bending. An opening in the side of the tub permits easy access, forming a water-tight seal when shut. Because these tubs require less physical effort to enter and offer more support during the bath, they allow people with reduced mobility or chronic pain to enjoy a warm bath more readily. Many models have features such as hydrotherapy jets, whirlpools and wheelchair accessibility. All models are included in the Aging Safely low price guarantee.
Although cleanliness is vital for overall good health, bathing can become a challenging or even dangerous task when age, chronic disorders or accidents limit mobility. According to the National Safety Council, an average of one person a day dies in the shower or bath due to falls. Mobility devices can offer assistance throughout other aspects of the daily routine, but bathing presents its own set of difficulties because conventional tubs provide little support. Safety baths are designed to support the bather and dramatically reduce the possibility of falls while entering and exiting the tub.
Owners of safety baths cite safety, comfort and enhanced independence as primary motivators for buying their walk bathtubs. When bathing becomes safer, it is no longer necessary to have assistance during a bath; the walkin bathtub itself provides essential support. Safety tubs feature shaped and molded interiors that make bathing more comfortable for those with mobility limitations. Hand-rails and non-slip surfaces provide a greater feeling of security and peace of mind as well as physical comfort, said many users of walk-in tubs.
Sports medicine specialists have long recommended hydrotherapy to injured athletes, but hydrotherapeutic baths can also benefit people with limited mobility. Warm water may ease the pain of fibromyalgia, sciatica, lumbar back pain and other chronic conditions that respond poorly to medication. Because the body feels weightless in water, a bath relieves pressure on hips and knees affected by osteoarthritis. Bathing can help reduce inflammation and edema for those who suffer from these conditions. Hydrotherapy can also stimulate increased blood flow to the lower extremities. For people who have diabetes or circulatory conditions that reduce circulation in the lower legs and feet, warm water can be part of a physical therapy regimen.
Aging Safely brings these benefits to a wider range of clients by offering a large selection of walk bathtubs at guaranteed low prices.
Contact Information:
Zach Wennstedt
Aging Safely Baths & More
P.O. Box 270696
Louisville, Colo. 80027
1-888-779-BATH(2284)
http://www.agingsafelybaths.com