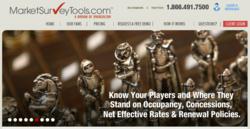 It's just too easy to leave income on the table otherwise.
Dallas, TX (PRWEB) July 31, 2012
MarketSurveyTools.com has been serving national apartment management companies since 2009. The software provides a web based application that replaces the need for spreadsheet surveys that have been popular with apartment management companies. Spreadsheet surveys pose difficulties with version incompatibility, easily corrupted formulas, and compiling and maintaining historical data. MarketSurveyTools.com eliminates those operational hazards and adds multiple dimensions to apartment market analysis. The program supplies an infinite number of regional and national reports plus subterranean trend analysis and projection scenarios. It is also easily accessible, confidential, secure, and pliable.
MarketSurveyTools.com sets up the market survey with information provided by the user. Subscribers then update their own pricing changes, or acquire published rates through a MarketSurveyTools.com interface. The configuration makes for a multi-faceted pricing options and review.
"We manage both garden and luxury high rise communities," states Jeremy Brown, Marketing Director for ZRS Management, LLC. "Those are very different market types, and high rise apartments require extremely specific pricing detail; it is just too easy to leave income on the table otherwise."
Spherexx.com has been beefing up the application's information base over the last three years, conducting its own research to expand the user's knowledge base and capturing critical market information for enhanced market analysis results. The program now includes a sophisticated national, state and local market library with product and economic information. It also contains searchable market data by zip code, class, radius, and market positioning. The enhanced database covers 30 major metropolitan areas and six states.
MarketSurveyTools.com offers an ideal service for prospective buyers, sellers and investors in the multi-family industry. One of the nation's multi-family hot spots, Washington D.C., reports 148 Class A+ communities within the heart of Washington, D.C. The communities are listed by name, distance from a target location, price per square foot and relativity to the market average. Within these defined parameters for example, prices average between $2.63 to 2.94 per square foot. The entire Washington D.C. data base covers 867 communities for all classes, with an overall average of $1.86 to $1.93 per square foot rents.
About Spherexx.com—Ad Agency | Software Development | Data Centers
Established in 2000, Spherexx.com is recognized as an established leader in the apartment industry website, Internet marketing and software development services. With offices located in Tulsa, Dallas, Austin, and Houston, the company has been distinguished as one of INC5000's fastest growing companies. Spherexx.com received an International Summit Creative Award 2012 for creative and communication excellence.
Spherexx.com offers a wide selection of professional services including web design and development, touch-screen kiosks, Internet lead generation tools, online advertising, apartment leasing consulting, advanced mobile technology, apartment lease-up marketing consulting, and search engine performance. The company also provides branding services, video/multimedia production, print media, and copywriting as well as website and email hosting, database solutions, pay per click, e-commerce solutions and custom programming.
Spherexx.com has developed CRM (customer relationship management) products, marketing and lead generation tools that allow clients to better manage and convert leads to leases and sales. These applications are branded under http://www.ILoveLeasing.com; http://www.MarketSurveyTools.com, and http://www.RentPush.com. Spherexx.com provides web-based prospecting, marketing, advertising management, and support services.
Spherexx.com has provided services to innovative real estate companies like Lincoln Property Company, Simmons Vedder, Cottonwood Capital, Forest City Enterprises, Graham Residential, ZRS Management, LLC and Perry Reid Properties. The company represents a collective seventy years of direct, executive level property management experience that readily identifies with the challenges and solutions of multi-family property management professionals.
About MarketSurveyTools.com―Business Intelligence
MarketSurveyTools.com creates an apartment market research analysis in just a few steps. The application identifies competitive apartment communities with utility information, special features, amenities, and pricing criteria to automatically create apartment surveys, occupancy reports, and apartment pricing comparison studies in multiple formats. It generates square foot rents, net rents, area studies, survey histories, graphing, trend reporting, and vivid reports that are easily shared over time and distance.