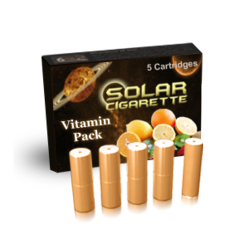 Get access to your own personal smoking buddy to help you stay committed and offer the VIP service you deserve while making the switch to a better lifestyle.
Miami, Florida (PRWEB) July 24, 2012
The Solar Cigarette electronic cigarette is much different from any other electronic cigarette out there on the market today because of the benefits it provides. Many electronic cigarette companies offer a different and better way of smoking but can they offer weight loss capabilities?
The Solar Cigarette gives smokers the same sensation of smoking but allows smokers to choose between inhaling vaporized nicotine or inhaling vaporized vitamins with the use of their patent pending vitamin packs.
"The ever so life changing Solar Cigarette vitamin pack is a one of its kind cartridge pack, which allows smokers to receive their daily vitamins and nicotine with every puff. Smokers will feel the difference as they receive an energy boost, softer supple skin, and the daily intake of vitamin A, C, and E, plus important daily B vitamins the the body requires to live a better lifestyle. Finally smoke and truly change up your lifestyle for the better."
Read more at: solarcigarette.com/cartridges
A representative of SolarCigarette.com states that our vitamin packs are a huge hit with our clients because of the fact that they are still smoking but taking in vitamins that actually improve their way of life. All of our clients who use our vitamin packs feel much more energetic and have a positive attitude even during the most stressful parts of their day.
Discover how to get a complimentary sample of the Solar Cigarette