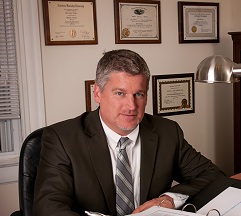 Text messages are an inherently unreliable form of evidence in a court of law."
Covington, KY (PRWEB) July 24, 2012
Paul J. Dickman and Nicholas D. Summe of Dickman Law Office. P.S.C. represented a Lexington man accused of rape in a Boone County, Kentucky. Joshua Crosthwaite was charged with Third Degree Rape and First Degree Sexual Abuse, two D Felonies. (Boone County, Kentucky Circuit Court Case No.12-CR-00095) He was also charged with Unlawful Transaction with a Minor, and Trafficking in a Legend Drug, two Class A misdemeanors.
Prosecutors claimed that he had assaulted and raped a 14 year old girl in Union, Kentucky on Black Friday, 2011. According to Police Reports filed by the Boone County, Kentucky Sheriff, , he took the girl and others shopping in the early morning hours of Black Friday 2011. The reports further claim that they all went back to the home of one of the Defendant's good friends. It is here that prosecutors claimed Crosthwaite gave them alcohol and then engaged in sexual relations with the 14 year old girl. According to police, Crosthwaite gave the teen the "morning after pill" the next day.
Detectives admitted in trial that no forensic evidence was collected by police; the crime scene was never secured. Hospital records showed that the 14 year old girl refused to be physically examined for the purposes of collecting evidence. Prosecutors relied primarily on text messages sent from the Defendant's phone to establish the Defendant's guilt. Police had taken over the phone and had been sending text messages to the Defendant, in a sting operation designed to obtain incriminating statements.
Records at trial showed that during the sting operation, the Defendant had sent text messages claiming he was totally innocent, and that he only gave the victim the "morning after pill" because he thought his close friend had engaged in sex with her. Those text messages, along with over 4000 other text messages were never secured by investigators.
Instead, a series of 150 or so text messages were presented; prosecutors claimed these were admissions to the crime. Dickman and Summe were able to demonstrate to the jury that the police not only failed to preserve text messages that the Defendant had sent claiming that he was completely innocent of the sex charges, they also failed to collect and bring over 4000 other text messages to the trial. The inherent reliability of text messages as evidence was repeatedly attacked by Dickman and Summe throughout the trial.
The jury found Crosthwaite Not Guilty of providing the minor alcohol, and Guilty of giving her the "morning after" pill. They did not reach a verdict on the Rape and Sex Abuse charges. In an 8 to 4 split, in favor of acquittal, several jurors stated that the text messages were "not enough evidence". The inherent unreliability of text messages, as well as the fact that over 4000 other text messages were not even preserved for the jury to see, caused 8 of the jurors to have serious doubts that a crime even occurred.
Crosthwaite steadfastly claims his innocence on the rape and sexual abuse charges. He turned down prosecutor's offer to serve 210 days in the county jail, instead he went to trial - facing 10 years in prison if convicted. "My client did not commit these horrible crimes. He is an educated, successful man who made a big mistake that morning. There is a big difference between unlawfully administering a drug, and committing rape and sexual assault." said Dickman.
During the trial, prosecutors asked the Jury not to rely on shows such as CSI, as that is not the "real world". Instead, they asked the jury to look at the text messages as evidence of Crosthwaite's guilt.
"We wish this victim would have submitted to the physical exams designed to collect DNA and other evidence, the scene would have been secured and forensic evidence collected in this case." said Nick Summe, co-counsel on the case. " We are confident that the DNA evidence would have completely exonerated him. In the meantime he is prepared to fight this case again when and if prosecutors decide to take it back to trial."
In a stinging critique of investigator's failure to secure the alleged crime scene and the lack of any DNA evidence in the case, and the reliance upon text messages to send a man to prison, Dickman looked at the jury in his closing argument and told them, "Maybe they should watch a few episodes of CSI."