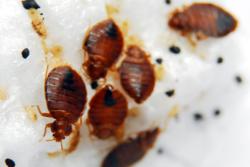 And because a product is given in exchange to every amount spent, one knows exactly where his money went.
Cincinnati, OH (PRWEB) July 25, 2012
Bed Bug Bully reviews offer an exact description of what kind of solution MyCleaningProducts' bed bug spray is. And that's it is safe apart from effective. Hence, when the company recently made the product available to the public, it also asserted that it is the bed bug solution that everybody must pick.
According to MyCleaningProducts, there are two reasons why the use of its bed bug spray is a safe solution to a bed bug problem. The first reason, it said, is that it spares anybody exposed to it from harmful chemical ingredients. The other reason it pointed out is that it keeps consumers from getting caught by a bed bug elimination scam.
As related by cbsnews.com back in 2011, revenue from bed bug elimination is on a burst. In 2010, it detailed that about $319 million was gained by pest-control companies from the elimination of the vampire-like pests. And needless to say, that attracts fake bed bug exterminators to join the business.
To avoid becoming the next bed bug elimination scam victim, careful attention must be given to a person's choice for an exterminator. However, registered pest-control professionals usually charge a huge amount for their bed bug elimination services. And for many, that is a strain to the budget.
So that bed bug sufferers can get rid of the pests effectively without having to spend big or exposing oneself to bed bug elimination scam artists, MyCleaningProducts' formulated a bed bug spray with the use of natural ingredients.
See How Bed Bug Bully Is Made Toxic-Free
It called as Bed Bug Bully, the product promises a toxic-free bed bug elimination process. That saves the product user and even others from chemical poisoning, allergies, headaches and breathing difficulties. What's more is that it is available in various amounts at affordable prices. And because a product is given in exchange to every amount spent, one knows exactly where his money went.
However, MyCleaningProducts understands the apprehension thrown to every new product or solution. So to prove that Bed Bug Bully reviews are true and that the bed bug spray is indeed effective, safe and a scam in no way, the company decided to give complimentary samples of it. And wanting to be of more help, MCP is also giving out a webinar to help the public learn how to get rid of bed bugs like a professional.
But apart from the sample and the webinar, MyCleaningProducts is additionally offering a discount. It's cutting its Bed Bug Bully prices by 10 percent. Consumers just have to enter coupon code "pr10" at checkout to take advantage of the price cut.