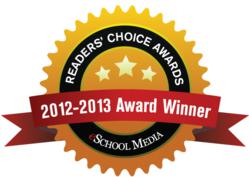 With My Big Campus, Lightspeed Systems is committed to working together with schools to accomplish amazing things.
Bakersfield, CA (PRWEB) July 26, 2012
Lightspeed Systems is honored to announce that My Big Campus was named one of the 50 Best EdTech Tools by eSchool News readers. The Reader's Choice Awards recognize educational products and tools that make a real impact in classrooms across the country. The award recipients are both nominated and voted upon by eSchool News readers—educators, administrators, and IT staff who are striving to improve the learning experience for students in their districts. With My Big Campus, Lightspeed Systems is committed to working together with schools to accomplish amazing things.
My Big Campus is a safe social learning platform designed specifically for K12 education. The classroom solution provides a safe environment for teacher and student collaboration and teaching digital citizenship. Educators can create classroom pages, assessments, and calendars, post assignments, and extend learning outside the school walls. With My Big Campus, students can collaborate and learn in an engaging environment—truly taking ownership of their learning and creating a positive digital footprint. The solution is also used to simplify classroom management and advance professional development opportunities.
My Big Campus currently has more than one million users—and growing. Those users are critical to the development, growth and success of My Big Campus—and to awards such as this Reader's Choice Award. Charles Motter, Principal at Cumberland County Schools in Virginia, shares, "We love My Big Campus because of the powerful potential it provides for both students and teachers alike to become engaged in the learning process using real, meaningful 21st Century skills."
Amy Dirlam, a teacher in MI says this about My Big Campus. "We use and appreciate My Big Campus because it provides a complete solution for schools looking to teach digital citizenship, deliver content to students for online and blended learning, provide collaboration space for students and educators, solve storage and file transfer issues, and offer an amazing collection of curricular resources that are filtered and appropriate for education! It is truly an amazing tool with outstanding technical support and developers who listen to what educators need and want for their students."
Safety, access, and sharing are the key distinguishing features of My Big Campus. With CIPA-compliant filtering, user policies, reporting, virus scanning, skin-tone analysis, and more, My Big Campus is completely monitored and safe for classroom use. Bob Campus, the site mentor, helper, and all-around nice guy models appropriate online behavior, ensures students are safe, all content is educational and appropriate, and users' questions are answered. Because My Big Campus is integrated with the Lightspeed web filter, it opens up access to often-overblocked resources, like YouTube videos, blogs, wikis, and web sites. And a true community focused on sharing and collaborating comes to life with features like discussions, topics, EduTalk, and the Bundle Exchange (a new lesson plan library).
"Our passion is education and our solutions are tailor-made for schools," says Lightspeed Systems CEO, Joel Heinrichs. "We are honored that My Big Campus is being recognized as a top edtech tool by educators and we are dedicated to continuing our strong partnership with schools to develop and deliver innovative and safe learning environments."
For more information about My Big Campus, the award-winning classroom tool, or to create a free account visit http://www.mybigcampus.com
About Lightspeed Systems
To us, education isn't an industry; it's a passion. Our solutions make it safe, secure, and easy for IT staff to give users access to resources that make learning engaging, collaborative—and real.
Since 1999, Lightspeed Systems has been partnering with, listening to, and supporting IT staff in schools—making their day-to-day tasks manageable and their educational goals reachable. Today our solutions are used in more than 2,800 school districts for more than 9 million students. Our products have won numerous awards and our company has been recognized on the Inc. 5,000 list as one of the fastest-growing private companies for the last five years. But more than what we've done, we're interested in what we can do, together: transform education. For more information, call 661-716-7600, or visit http://www.lightspeedsystems.com.
MEDIA CONTACTS:
Toni Frantz
toni (at) lightspeedsystems (dot) com
Lightspeed Systems
661-431-1651