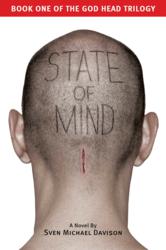 Imagine a world where you can sleep, explore the cloud, snog with your significant other, or play video games… while driving
Los Angeles, CA (PRWEB) July 30, 2012
Last month several experts in the automotive field discussed the reality of having autonomous cars for the masses by 2022 at the Association for Unmanned Vehicle Systems International summit. Google has already recorded over 250,000 autonomous miles in their specially constructed Prius'. It's getting harder to refute the fact that our lives are rapidly blurring with the cyber-world. Is this trend beneficial, or are there demons lurking in the silver lining? Sven Michael Davison's recently published novel, "State of Mind," explores the near future to weigh the pros and cons.
"Imagine a world where you can sleep, explore the cloud, snog with your significant other, or play video games… while driving," Davison states. "Well the car would be driving, you would be a passenger who could be doing any thing you please, including putting in more hours at the 'office.' But this is just the tip of the ice-berg. What will the smart phone/computer look like in the near future? Could it be shrunken down and implanted in your head? Why not?"
"State of Mind" is first and foremost a near-future thriller, but the novel comments on today's society and how technology controls us as much as we control it. "State of Mind" is the first novel in the highly anticipated "The God Head Trilogy." Look for the second book, "State of Union," in the fall of 2012.
Your thoughts are not your own… Los Angeles 2030: You can eat what you want and never gain weight. You can also call a friend while surfing the web without a phone or computer. All this and more will be yours following the simple installation of a P-Chip in your brain.
After botching the arrest of the governor's son, Commander Jake Travissi is banned from law enforcement. The workaholic homicide cop spirals into depression...until he is given a rare second chance. The price? Volunteer for chip implantation and join Homeland Security's experimental Enhanced Unit.
"State of Union," the sequel to "State of Mind," is still on track for release in late fall of this year. The third installment of the "God Head Trilogy" will be released in the early spring of 2013. That title will be announced around the time "State of Union" is published.
"State of Mind" is a finalist and winner of two Dan Poynter's Global eBook Awards.
"A thoughtfully composed piece of cyberpunk that will please readers of both science fiction and noir." – Kirkus Reviews
"Davison's Los Angeles is pulpy- vibrant, an unforgettable wasteland. State of Mind is the world of the near future, the horrible synthesis of human desire and the technology to make it a reality." – ForeWord Reviews
"An intelligent, thought provoking, cinematic post-cyberpunk thriller and a great read."

"This book deserves to go directly to the 'Top Ten Best Sellers List.'" – Deb Shunamon, Reader Views.
"There are some crazy twists and turns in this novel and the end? One word… WOW. It totally blew me away. There are plenty of shocking, hanging on the edge of my seats moments." – Alice Bola, girls just reading
"State of Mind" is a tense, thoughtful and well-paced sci-fi tale drawn from Davison's life, imagination and his experiences with technological innovation. – Pod Cast Interview by Bryan Reesman
Davison lives with his wife and son in the Los Angeles area. "State of Mind" is his second novel.
For more information visit http://www.stateofmindbook.com
STATE OF MIND
By Sven Michael Davison
Published by Bedouin Press
$25.95 • (389 pages) • 6 x 9
Hardcover with dust jacket • ISBN: 978-0-9666149-2-3
eBook $0.99
Publication date: 2011
http://www.stateofmindbook.com