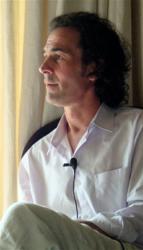 "Remain gently but resolutely your self, the self. Separation cannot stand the bright but gentle light of our own dispassionate contemplation."
Santa Monica California (PRWEB) July 26, 2012
The Center for Conscious Spiritual Maturity promotes a spiritual meeting with non-dual teacher Rupert Spira in Santa Monica at the end of August. Rupert will explore consciousness, awareness, meditation and reality in meetings with the public the evening of August 24, and for workshops on Saturday, August 25 and Sunday, August 26th at the First Presbyterian Church of Santa Monica. The Friday evening meeting will begin at 7:00pm. Book signing for any who bring or buy a book.
"The over-looking or forgetting of our true nature takes place in a similar way that the TV screen is apparently obscured when a film begins. When a film begins objects, people, buildings etc. appear. If we become involved in the film we forget that we are simply seeing a screen. At the moment of this forgetting or over-looking of the screen, objects, people, buildings etc. seem to acquire a reality of their own, independent of the screen.
Although the screen is itself ever-present and unlimited (in the context of the metaphor), its essential nature seems to be veiled by the objects, people, buildings etc. that appear on it. The screen, as a result, seems to lose or forgo its essential nature and to take on the limits and the destiny of the objects and characters in the film."
Rupert lives in Oxford, UK, his wife, Ellen, a therapist and yoga teacher in the non-dual tradition of Kashmir Shaivism, and his son, Matthew. He holds meetings and retreats worldwide. An accomplished ceramicist, his beautiful artwork, along with his discourse on non-duality can be found on: http://www.rupertspira.com/
Non-duality is taught many teachers, not the least of whom are: Francis Lucille, Ramana Maharshi, Nisargadatta Maharaj, Osho, Scott Kiloby, Peter Brown, and Swami Premodaya.
For more information, contact: Heide Abra at 323-935-9799 directly. Information can also be found on http://www.thecentercsm.com.